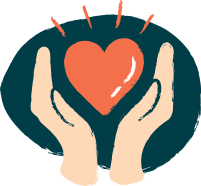 Our Values
Be brave and open to new ideas
Everyone has a 'can do' attitude and is willing to try new approaches to make life more enriching for clients, residents and their families. We value creative thinking, and will always listen if you and your team members have a smart idea.
Come together as one big family
Well-being for our clients and residents starts with strong relationships with those who care for them. Everyone has a role to play in this and in creating the right environment for exceptional care.
Great solutions and results come from great teamwork. Whiddon people work as a team, build trust and respect and support each other. Everyone matters in a family and many things go into making a family strong.
Listen. Understand. Make a real difference
Taking time to really listen and understand the needs of our clients, families, residents, team members and communities means we can all have an impact on life at Whiddon and our local communities.
When clients, residents and their families tell us that they can't believe the difference we have made to their lives, then we know we've achieved our goal.
Experience The Whiddon Way
The Whiddon Way is what sets us apart as an organisation, in the way that our people approach their jobs and aged care.
Whiddon people are warm and welcoming, like one big family where everyone is important.
The Whiddon Way is about everything that our people and our team members do to make a difference: enabling our clients and residents to enjoy the things that matter to them; going out of their way to help families and clients navigate the aged care environment; helping trial new programs and ideas that improve our services.
At Whiddon, you'll live the Whiddon Way every day working together with your team members, clients, families and communities.