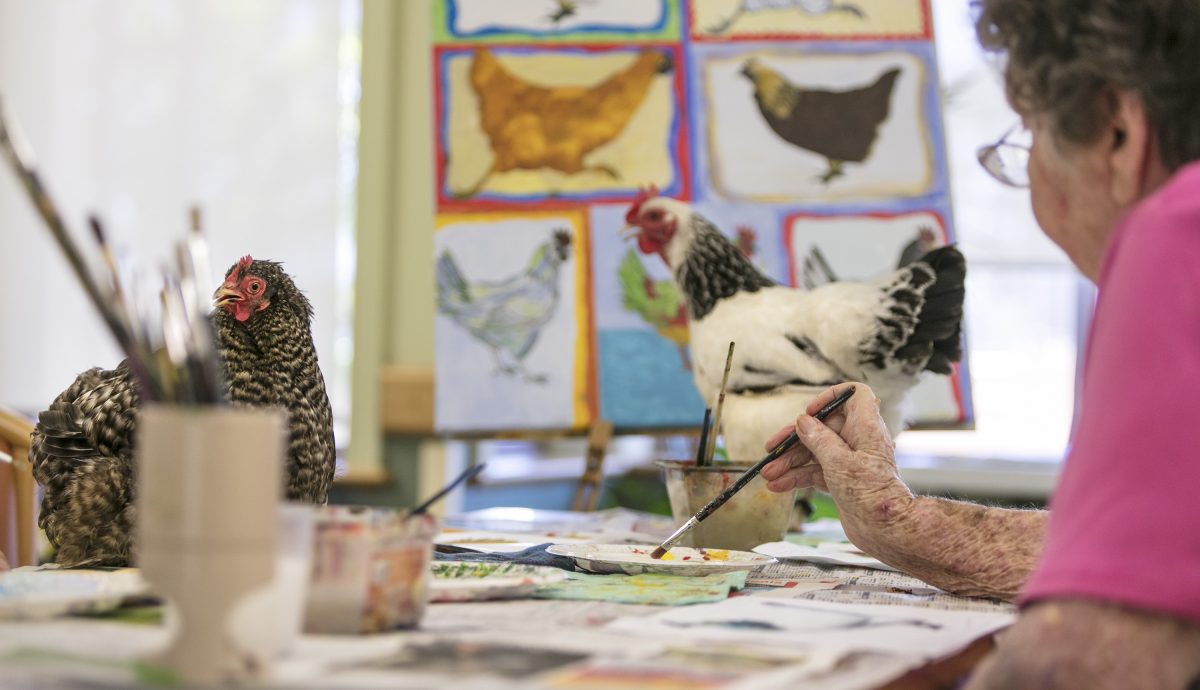 Benefits of art therapy for older Australians
It is well-known that creating art can bring great joy and pleasure, but did you know that nurturing your inner artist can be good for your mental health too?
And for older Australians, there's growing recognition of the positive effects of art therapy on wellbeing and mental health, such as reducing anxiety, boosting confidence and providing a sense of purpose and accomplishment.
How can art therapy benefit older people?
Art therapy uses the creative process to improve mental health. It can be very powerful and offer excellent opportunities for self-expression, improved cognition and physical capability and reduced stress levels. Art therapy can also be a very beneficial creative outlet for older people living with memory loss, as there is evidence that it can help improve memory and communication. Neuroscience tells us that the creative centres of the brain are the last to deteriorate, which is why it is possible for people with dementia to grow and develop their creative capabilities.
Art therapy can be very calming, and a way to reduce stress and pain levels for older people living with chronic pain. There's also the added benefit of social connection, particularly when older people meet new friends with common interests through group art therapy where they're able to relive an old hobby such as painting, or try out something new in this setting. For elderly people, social connection plays an important role in boosting wellbeing and improving quality of life.
Art therapy in aged care
Award-winning aged care provider, Whiddon in NSW and QLD, offers Creative Ageing, which includes art therapy and programs, as an essential part of their approach to care. This is due to the strong connections between the arts and good health, and the lifelong benefits that creative therapies, such as art therapies, can offer.
Whiddon use the term creative ageing more broadly, to include arts and crafts, music and song, dance, theatre, storytelling, writing, cooking, gardening, mind games, digital technology, environmental design and lifelong learning. Creative ageing is about encouraging residents and clients to express themselves through participating in the things they love.
Whiddon recognises that art, painting, sculpture and craft programs can be very enjoyable for residents and clients, and therefore, is something that people are more likely to continue participating in within their care homes  and community care programs. They often see the physical, mental and emotional benefits of aged care residents and clients who frequently participate in their group and individual art therapy and creative ageing programs.
Creative Ageing at Whiddon
Whiddon is a pioneer in the wellbeing and creative ageing field in Australia. Keeping people connected, staying physically and mentally active, participating in meaningful and purposeful activities and feeling part of a community are essential to wellbeing. From gardening and art, to singing, sharing skills with younger generations and even raising chooks, their award-winning programs support their residents and clients to remain connected and enjoy the things that matter to them.
A not-for-profit provider, Whiddon has also seen that creative ageing, including art therapy, can help to create a sense of community amongst their residents and clients when they find things in common with others.
They have also observed that some residents and clients, who may never have picked up an art brush before, can unlock some amazing hidden and creative talents that really do help to give these residents a sense of purpose and achievement. For Whiddon resident Neil, finding a passion and talent for art as an older person, has helped him to relax, connect and find purpose.
One of the best things about art therapy and programs, is that everyone can participate, at any age. It can help keep older people engaged, stimulated and happy, and give them important opportunities to learn new skills. And you never know what hidden talents may be uncovered in the process, and what benefits you may discover for you, or your older loved one.