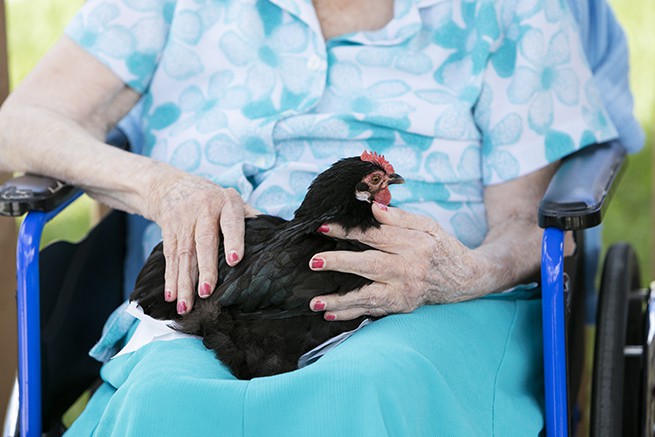 Whiddon HenPower report reveals the program's strength
A recent report details the benefits found through HenPower, a creative ageing program that introduced chooks to residential aged care homes to increase the mood, health, and social interaction of residents.
Trialing HenPower in Aged Care Homes
It was an Australian first when Whiddon began a 6 month trial of the HenPower program in December 2015, and a recent report detailing the results demonstrates significant benefits for the aged care residents who experienced the initiative.
HenPower is an evidence-based creative ageing program created by Equal Arts in the UK. It was designed so aged care residents could nurture hens and participate in social and creative activities based around hen keeping, as well as interact with volunteers and the community.
Equal Arts' aim for the program was to "empower older people to build positive relationships through hen-keeping with improved wellbeing, reduced loneliness and reduced depression".
They anticipated success in the program by working towards goals which included helping care settings embrace 'living with care' as opposed to 'caring for'; supporting older people in care settings to get involved with community events; supporting committees within care settings to provide meaningful activities which embrace creative ageing.
Karn Nelson, Executive General Manager Strategy and Research, Whiddon, said in advance of the trial taking place: "Fostering close connections with the community and maintaining social interaction, interests and activities is absolutely essential to the wellbeing and health of older Australians. At Whiddon we have seen our clients' quality of life improve significantly when we build in and create unique opportunities and social activities, such as HenPower, to their daily lives."
Four Whiddon care homes in regional, rural and remote NSW volunteered to take part in the trial. Of those care homes, 26 engaged residents, as well as staff members, family members, and volunteers took part in the program.
---
The Benefits of HenPower
The report reveals that HenPower had numerous advantages for the residents who were engaged with the program. The three main benefits included:
Empowerment:
Residents enjoyed the responsibilities that came with looking after hens and the program encouraged feelings of empowerment and independence. Those taking part in the trial cared for the chooks, developed regular routines and participated in more frequent social interaction.
The findings concluded that HenPower helped to 'normalise' life in the care homes by providing opportunities for daily responsibilities for residents, such as collecting eggs. One resident with advanced dementia also enjoyed opening and closing the coop to check on the chooks each day.
Connection:
One of the main aims of the trial was to reduce feelings of social isolation and loneliness. The report reveals that HenPower helped to develop a sense of connection and increased social interaction. This was seen not only between residents but also between residents and staff, residents and family, and care home to community.
With loneliness said to be as damaging to our health as smoking 15 cigarettes a day (Holt-Lunstad 2010), HenPower helps vulnerable older people gain a sense of purpose and being part of something worthwhile. The new-founded routines encouraged higher levels of interaction and previously isolated residents found new friendships.
Health and wellbeing:
Numerous health benefits – both physical and mental – were reported as a result of HenPower. The program involved additional incidental exercise, as residents would go outside every day to visit the hens, and the length of time spent outdoors increased.
Mental health benefits were also reported for residents who bonded with the chooks and sat for periods of time stroking them on their laps. This activity was reported as being calming, distracting and offering enduring stress relief. Staff also observed that residents with severe dementia experienced more opportunity for positive emotional response and reduced agitation.
Overall, HenPower helped to foster a more welcoming environment and encouraged new residents to settle and transition into life in the care home. Thus far the program has brought joy to many of our residents and we look forward to seeing more benefits as the initiative continues across all of our aged care homes.