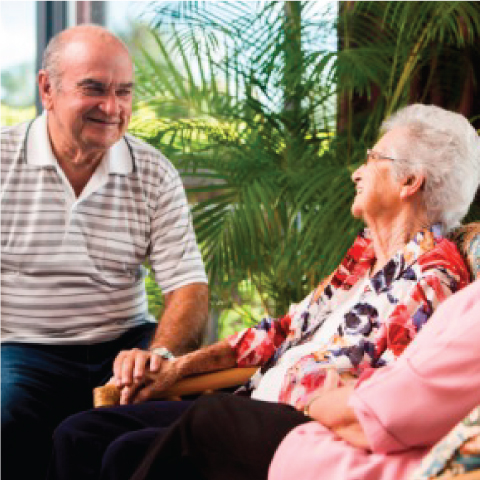 Things we often forget when planning for residential aged care
When planning for aged care it is important to understand the different elements that go into choosing an aged care home that is right for you or your loved one. We spoke to Sally Renshaw, General Manager of Residential Care at Whiddon to understand some of the things families may forget when planning for residential care.
---
Physical Research
Really take the time to find a home that is right for you. Research and visit different homes where you can attend a lunch, social group, and get a general feel for the atmosphere of the home you're looking at. Physical visits will allow you to meet some of the staff and residents and help you to decide where you would feel comfortable and if the home offers what you want and need.
It is important to remember that if you are looking for a family member, the home needs to meet their needs and preferences – ensure you're all involved in this choosing process and that your mum, dad or family member is part of these discussions.
---
Financial Preparation
Research and fully understand the costs associated with residential aged care. Get assistance with this from the aged care home and a financial planner.
There are accommodation costs (Refundable Accommodation Deposits vs. Daily Accommodation Payments) and daily care fees to think about, but there's also costs such as pharmacy bills to plan for, or things such as haircuts, telephone and internet bills.
---
Personal Affairs
Organising your personal affairs and personal business is an important part of planning for residential aged care.
Think about talking about having a Power of Attorney and completing the paperwork. It can be a difficult subject, but talking about advanced care (end of life care) planning with your family is important so they understand all preferences.
Speak to people like your GP or hairdresser to see if they would be able to visit you in the home to continue your usual services. Most aged care homes offer these services but some people like to continue seeing the people who may have cared for them for 40 years or know just how they like to style their hair. It is important to know what is possible and what is not to help with the changes when moving.
---
Mental Preparation
It is a huge change to leave your home or familiar space and move into residential care. Remember to allow yourself or your family member time to prepare. Many aged care homes allow and encourage you to bring some of your personal belongings to help make the space your own.
Some people like familiarity, while others may want a fresh start. Go through your belongings and think about what you may like to take, what you might want to store, or what you may want to get rid of. You can also make a list of any new items for your room and new home.
---