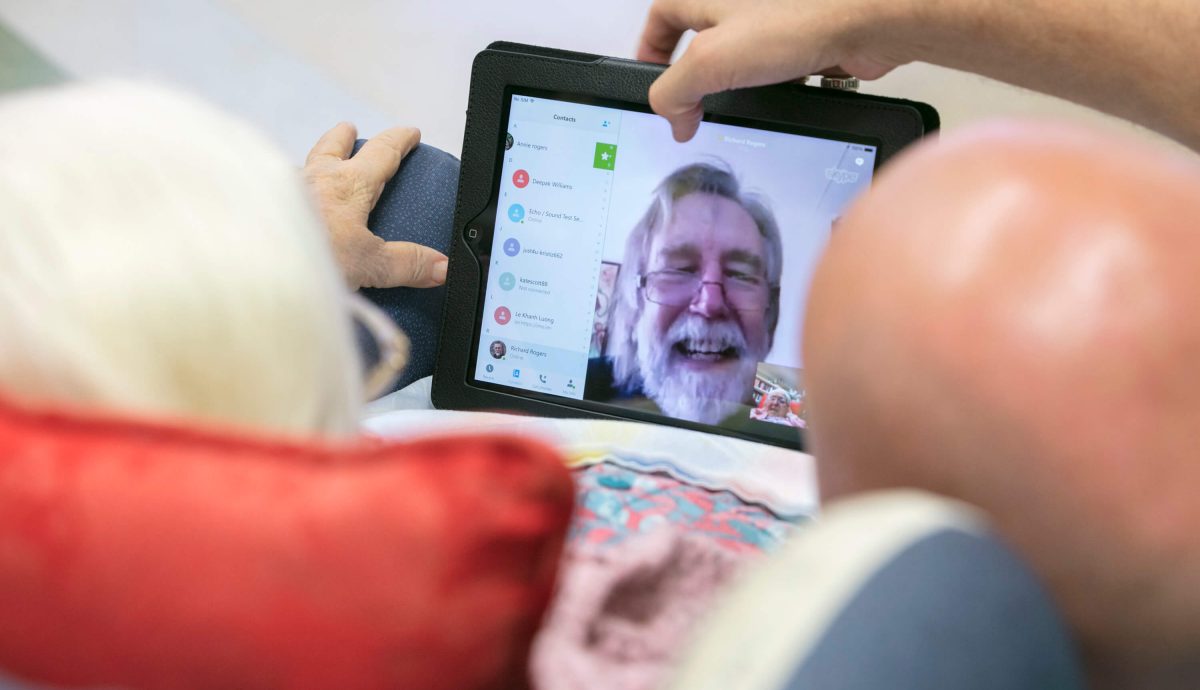 How to use technology and social media to reduce loneliness
New research has revealed that over 80% of Australians over the age of 65 use the internet daily to stay connected with family, friends and online communities. With more than 2.7 million people aged over 65 using the internet every day, this adoption of technology is helping people stay connected and reducing feelings of loneliness.
According to the research, half of Australians aged over 65 experience feelings of loneliness. The most common reasons for this are not knowing enough people in the neighbourhood and the lack of transport or mobility acting as a barrier to getting out and about in the community – both challenges that a proficiency in online activity can help to overcome.
With technology and social media proving to be an effective way for older people to stay connected, we're sharing some tips on how to introduce and use technology and social media to reduce loneliness.
---
Top Tips:
Introduce the idea of using social media and technologies like Skype, FaceTime and email to an older relative or friend and see if this is something that interests them. While some older people prefer to connect face to face or converse over the phone, social media is proving an effective connection tool for many. It's all about personal preference.
Enable access by sharing skills and knowledge. For many older people, a lack of understanding and skills is the first barrier to using technology and social media. Enabling them to use these valuable technologies can be the first step. Talk about what the tools do, explain and demonstrate how to use them, guide them to use the platform themselves and be there to assist as they go.
Check out your local library or TAFE, or ask a local aged care provider, about technology classes for seniors in your area. Many libraries have TechSavvySeniors programs, or similar classes, available to help older people upskill and learn about connecting online, using email and social media and more.
Choose the right platform – Facebook, FaceTime and Skype are some of the most popular social tools for older people. FaceTime and Skype are video calling and chat tools and are perfect for talking with family and friends near or far. Facebook requires a little more setup for a new user and there are a few key pointers in online safety, like passwords and privacy settings, that you should talk about before an older relative, who may be new to using the internet, uses the platform to connect online. We've shared a number of resources to help you stay safe online at the end of this article.
Select a device that the older person is comfortable using and help them familiarise themselves with it. Once you've decided to embark on the digital journey, choosing the right device is the first step! Ask around and see what other seniors are using, look at devices that have larger buttons, a bigger screen size and an easy to use interface. If you're buying something new, like a smartphone or tablet, let your family member or friend test it out and see how they find it – familiarity and feeling empowered to use the device will go a long way!
---
June and Ruth's story about using Skype to connect with family in distance places is a great example of how technology brings people together, and they access this technology with the support of a care staff member.
Once your relative or friend gets started online, help them stay engaged and grow their skills – set aside time for a weekly Skype or FaceTime chat, share a photo on Facebook or email them with an update on what your week has been like – regular practice is essential.
---
Resources for staying safe online:
---
Material published on YourLife is provided for information purposes only. It is general information that may not apply to your individual needs, it is not intended as medical advice, and is not a substitute for your own doctor's medical care or advice. You assume total responsibility and risk for your use of this web site, web site-related services, and hyperlinked web sites. No oral or written information or advice given by The Whiddon Group, its agents, or its authorised representatives shall create a warranty or in any way increase the scope of this warranty. We encourage you to speak to your medical practitioner before making decisions in relation to your care or medical needs