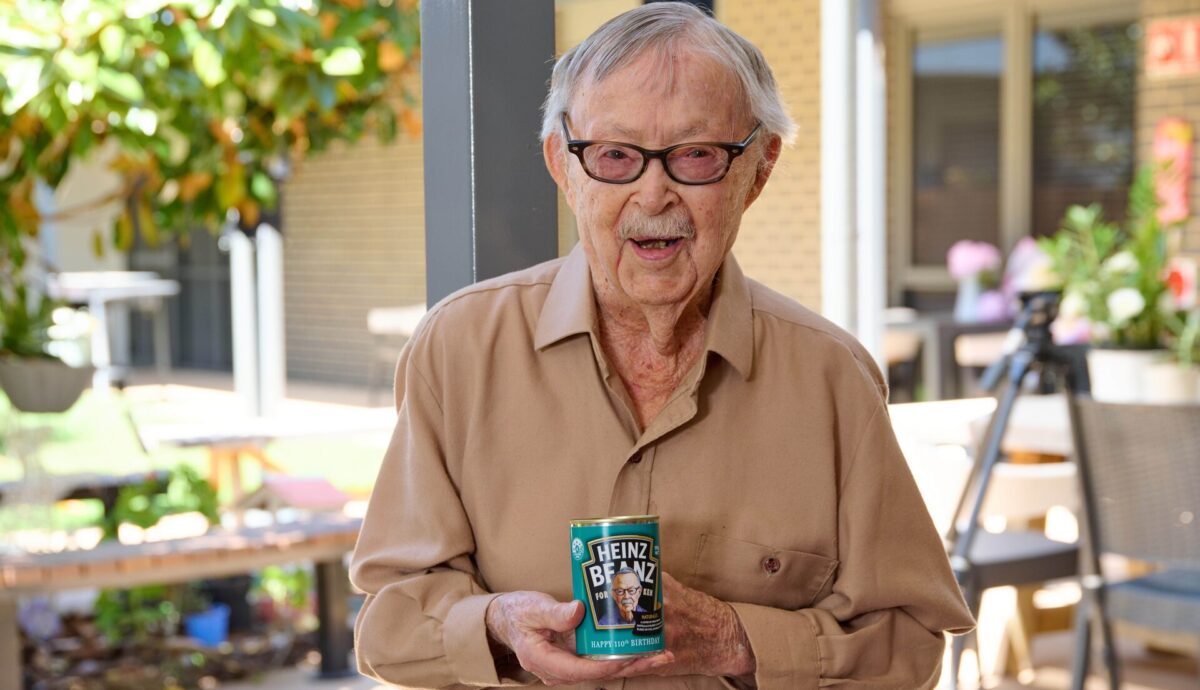 Whiddon & Heinz Australia Celebrate the Nation's Oldest Man, 110-Year-Old Grafton Resident Kenneth Weeks
In celebration of the 110th birthday of Australia's oldest known living man, Heinz Australia has produced a personalised limited run of baked beans for Whiddon Grafton resident – and keen baked bean enthusiast – Kenneth Weeks.
On Thursday, October 5th, 2023, Kenneth 'Ken' Weeks celebrated the tremendous milestone of his 110th birthday. Already recognised as Australia's oldest known living man, Ken's incredible legacy has been further immortalised with personalised cans of his favourite food – baked beans.
The special limited edition run of 300 'Ken Cans' was kindly produced and donated by Australia's most-loved baked beans brand, Heinz. Each can features Ken's portrait and a special birthday message, with the gifted supply bringing baked beans cheer to the staff and residents of Whiddon Grafton for the next 6 months.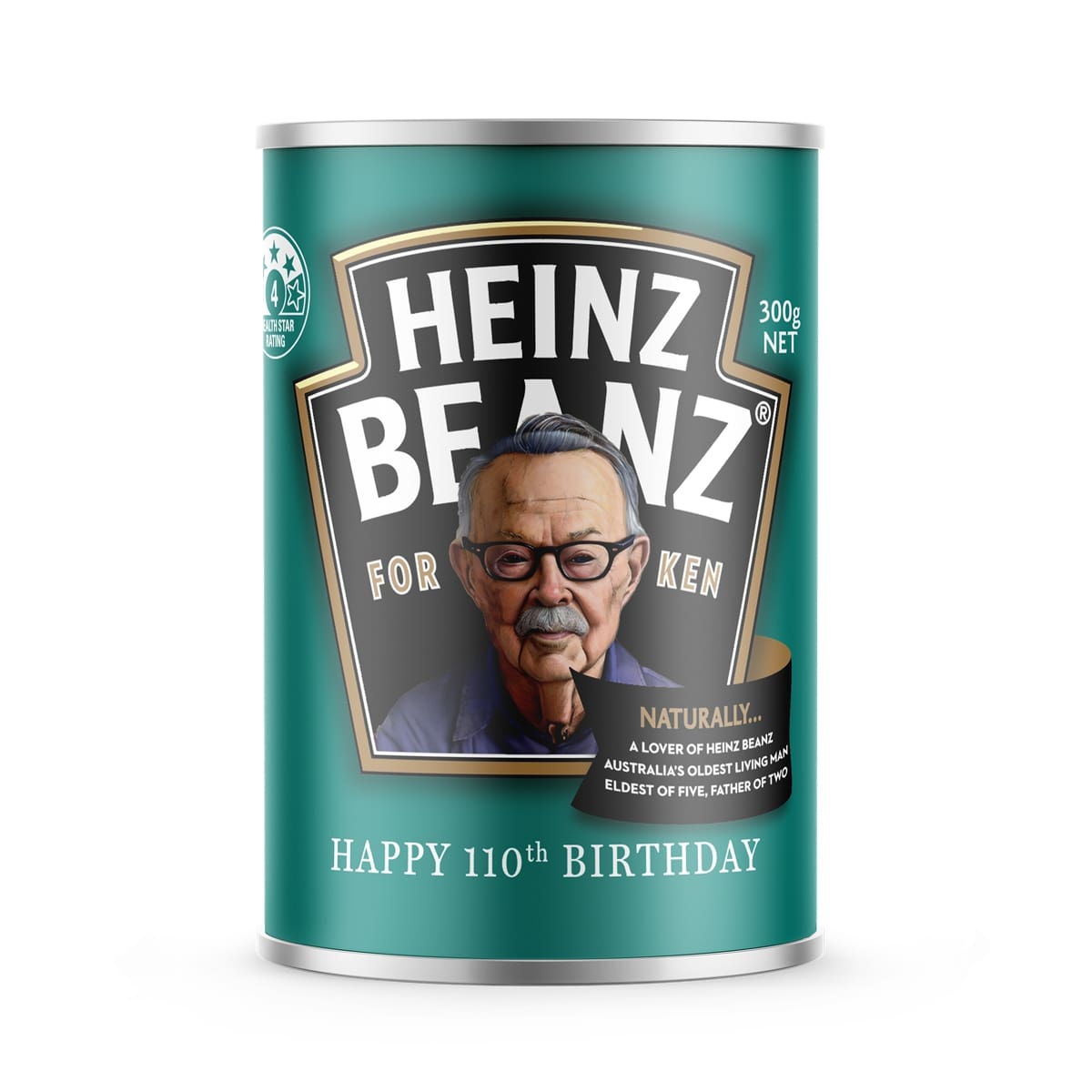 Proving that Heinz Baked Beans has truly been a firm favourite of Australians for generations, Ken's milestone captured the attention of Heinz thanks to the dedicated team at award-winning care provider, Whiddon.
Ken lived independently until he moved into care at Whiddon Grafton shortly before his 105th birthday. The Whiddon Grafton team, aware of Ken's love for baked beans, have each year gifted him a special birthday Heinz Baked Beans hamper. This year, sponsored by Heinz Australia, the hamper was set to grow. Whiddon Deputy CEO, Alyson Jarrett, personally delivered 300 'personalised cans' to Ken and the team at Whiddon Grafton.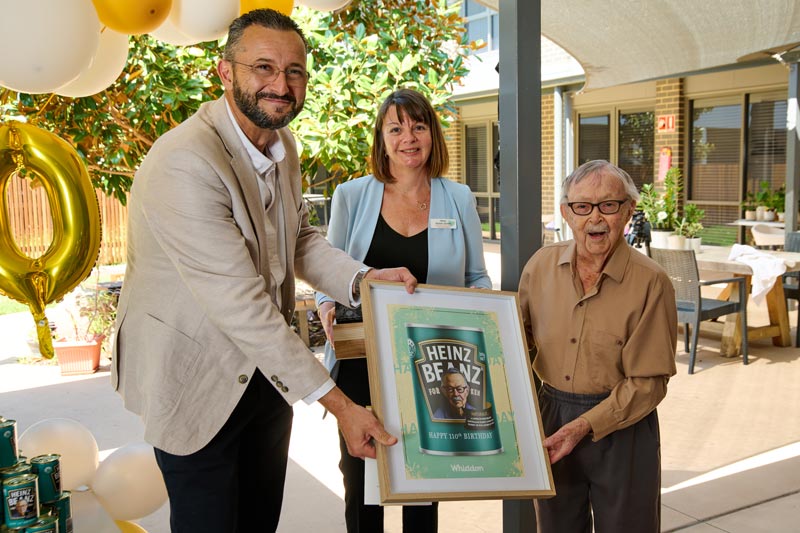 Reflecting on the legacy of Ken's affinity with Heinz baked beans, Whiddon Grafton, Director of Care Services, Sandra Osborne said:
"Ken's adoration for baked beans began in his bachelor days when he sought an easy, filling, and quick meal option. Even after marrying his wife, they continued to enjoy baked beans when they preferred a simple meal. Following his wife's passing, Ken always kept a steady supply of baked beans in his cupboard, admitting that he wasn't the best cook."
Born in 1913 at 'Braylesford' in Dovedale Street, Grafton, Ken has been a lifelong resident and a cherished member of the Clarence Valley community. The eldest of five children, Ken met and married his wife Jean in Grafton 1940 and went on to have two sons, Noel and Ian.
Alyson Jarrett, Deputy CEO of Whiddon, expressed her excitement for Ken's milestone and on behalf of the Whiddon Grafton community:
"We are incredibly fortunate to have Ken in our care at Whiddon. We would also like to thank the team at Heinz Australia for helping us with this thoughtful gift. We look forward to celebrating Ken's birthday with enough baked beans to last awhile."
Justine Powell, Head of Marketing, Heinz Australia spoke to the gesture:
"We are thrilled to be part of Ken's 110th birthday celebrations. It's not every day we see someone with a story as incredible as Ken's. The limited run of personalised 'Ken Cans' is but a small token of appreciation for Ken's unwavering love for Heinz Baked Beans".
Whiddon Grafton held a special celebration for Ken on his birthday Thursday, October 5th where he was joined by members of his family, staff, and fellow residents of the home. As part of the celebrations, Heinz delivered the cans to be received by Ken and the Whiddon Grafton team alongside Whiddon CEO Chris Mamarelis and Deputy CEO Alyson Jarrett.