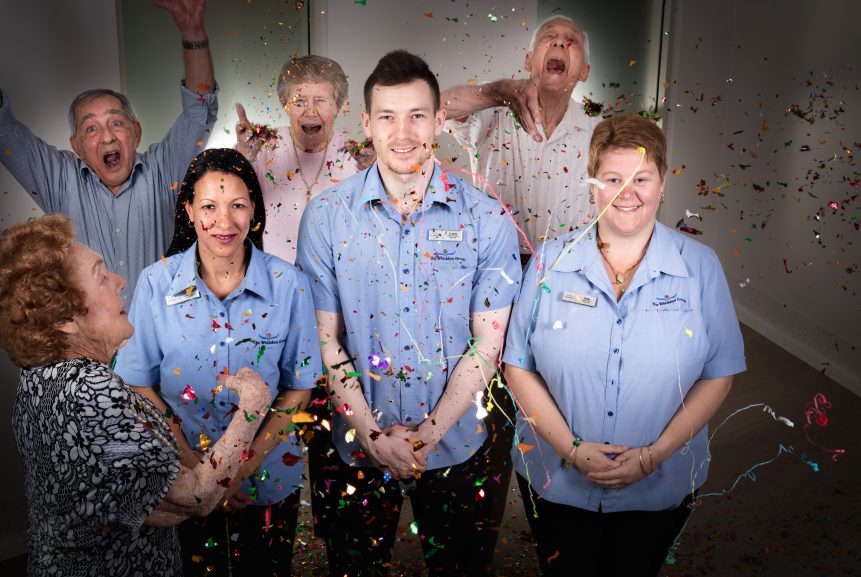 Celebrating Australia's Incredible Nurses
May 12 is International Nurses Day, a day to celebrate people working in the nursing profession and the wonderful work they do.
To celebrate, we're sharing the inspiring stories of nurses working in aged care, the incredible work that they do and the journey they each took to become registered nurses.
Emily, Clinical Nurse Coordinator
From a young age, Emily knew that she wanted a career where she was helping people. Her mother and aunties were health care professionals and she was inspired by their passion for nursing.
After finishing year 12, Emily studied a Bachelor of Nursing at the University of New England, while working as an Assistant in Nursing at an aged care home in Grafton. When Emily finished university, she worked in remote locations in Western Australia, Arnherm Land and other remote parts of Australia as a nurse. Working in Three Springs in WA was a highlight for Emily, and she remembers her team and the local community there fondly.
Following her work in remote areas, Emily moved to Bathurst and has been in the role of Clinical Nurse Coordinator at an aged care home in Kelso for three years now. She loves her job and loves working in aged care, aged care is an industry very close to her heart, as she cared for her grandparents before they passed away.
"I love meeting new people each day, interacting with residents and their families, and helping them feel like a part of our big family here at the home".
"Nursing is incredibly rewarding, I don't think there's another job that can give you quite the same opportunities – something new everyday, working with people and it can take you so many places," – Emily.
---
Lynda, Care Manager
Lynda's first career job was as a clerk in a technical college, and it was one that never felt quite right to her. Realising that her job wasn't what she wanted, Lynda saw an open day at Auburn Hospital advertised and went along to see what it was about. She was instantly taken with the idea of a career in nursing and commenced her training at Auburn Hospital in 1975; Lynda has now been a nurse for over forty years!
When she finished her training, Lynda worked at Liverpool Hospital in A&E and Orthopedics for some time, before taking on a new role at a private hospital as a Nursing Unit Manager. Lynda's career has seen her working in field hospitals with the armed forces, alongside military police and stationed at Holsworthy Army Base.
In the early 2000s, Lynda and her husband decided to try something new and moved to Kempsey, where they purchased a hotel and were publicans for 13 years. Once a nurse, always a nurse though, and Lynda missed nursing. She soon moved back into nursing roles in aged care and is now a Care Manager at an aged care home in South West Sydney.
"I love to get up in the morning with the thought of making a difference and helping someone. Nursing is a very rewarding careers and I've loved it – there are so many avenues you can follows and so many different roles you can work in," – Lynda.
---
Sandra, Director Care Services
Sandra completed her year 10 work placement at Grafton Base Hospital and from then on, knew that she wanted to be a nurse. After finishing year 12, Sandra trained at Royal Brisbane Hospital and completed her nursing studies to become an Enrolled Nurse. She then moved back to her home town of Grafton and started working at a Grafton aged care home and back at Grafton Base Hospital, where it all began.
Sandra developed a passion for aged care and knew that she wanted to focus her career on working in aged care. She accepted a permanent position at the aged care home and, through a series of scholarships, studied further to become an Endorsed Enrolled Nurse and then a Registered Nurse through Charles Darwin University, completing her placements in Alice Springs and Darwin.
In the final year of her Bachelor of Nursing, Sandra was offered the role of Deputy Director of Care Services at the aged care home, before moving into the Director of Care Services role just three years ago.
"Every day is different, to see a smile on a resident's face is just amazing. It's challenging work and it keeps you engaged. I love working in aged care as you really get to know the residents and their families, they become part of our extended family and we become part of theirs. It is truly a privilege to be part of their lives," – Sandra.