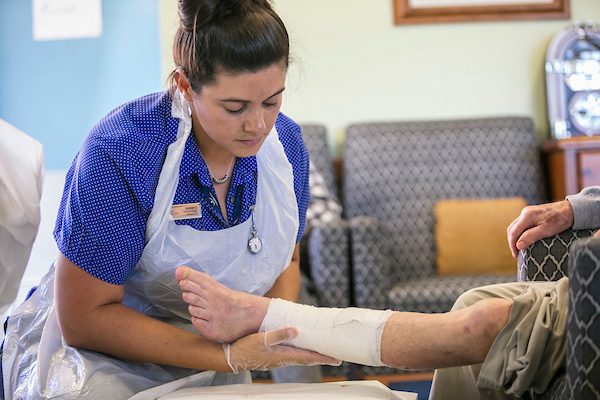 International Nurses Day – A Nurse's Story
On International Nurses Day an experienced nurse shares the story of a day in her career, a day that she has never forgotten and that reminds her of the compassion, empathy and humanity that is at the heart of being a nurse.
A Nurse's Story
It was a quiet day in casualty, a few people waiting in the waiting area to see the doctor. I was making myself busy in the treatment room waiting to attend to a wound or in the ready to take a blood pressure.
As I came out of the treatment room I crossed through the waiting area, I saw the two heavy plastic doors get pushed open and watched a man slowly make his way into the seating area. I watched people in the waiting rapidly move to the periphery of the room, leaving the new arrival to sit in the middle of the room on his own, alone. I welcome him.
"Patrick how are you?" I know I will get no response. I take his hand, despite the stench that engulfs him I continue to walk by his side, past the staff only sign and take him to the back end of the department.
Without verbal exchange I assist Patrick into the large bathroom. I lean forward and turn on the taps, pour a couple of cups of Lux flakes into the running water and assist him to undress. My stomach sits dangerously at the back of my throat, there is no mistaking the smell of urine, faeces and body odour that has been festering for months.
This ritual takes place every four or so months.  Patrick is like so many other men and women who live in the darkness of this city, ignored by most as they are passed in silent corners of alleys or tucked in a bus shelter, brutalised by some and forgotten by many.
Patrick no doubt has a story. To date I have not heard it, I doubt that anyone has or will.
Once in the hot, soapy bath, Patrick's face takes on a new demeanor, he is relaxed, no longer suspicious or frightened. The many deep crevasses in his sun-damaged skin filled with the scum of the city takes on a ruby red appearance. I hand Patrick a washer that has been impregnated with a skin emollient and antiseptic gel and gently ask him to wash his face and behind his ears. Like a young child he does as requested.
I excuse myself and tell him that I will be back in twenty minutes and to enjoy his hot bath. Before I leave I ask if he wants ham or chicken sandwiches- again knowing I would not get a response, I go and order both, a large pot of tea, a custard tart and a bag of fruit and chocolate milk to go.
20 minutes and I return, Patrick now lying in a tepid pool of slurry. I tell him that I will drain the bath and hand him the shower nozzle, now running warm water. I ask him if he would like me to wash his back, he leans forward and allows me to scrub his back. He holds the shower head over his shoulder to rinse off the soapy lather. I reach for the shampoo and squirt a large amount onto his hair and begin to scrub at his scalp. Past experience dictated that this was the sequence I needed to follow, to first gain Patrick's trust.
I often wondered about the large indentation I felt at the side of his head asking myself if it was caused by an accident or misadventure? I once asked him and he violently recoiled from my touch. It was made abundantly clear to me this was a no-go zone. Rinsing off for the last time, the water now clear and Patrick looking more like a shriveled apricot.
Half an hour passes and Patrick has been assisted to dress into clean goodwill clothes, I ensure that he has many layers to protect him from the outdoor elements. Surprisingly his skin is dry but healthy without the skin sores one might see in others, rat bites, mite bites and open areas from scratching with filthy nails.
I ask him to sit and offer to trim his hair and shave him.  Hair like felt – tangled beyond. Facial and neck hair now sporadic in growth, like tufts of bush tussock and equally tough to manage. Patrick is a willing subject, he allows me to lather his now softened whiskers and hair. He sits with his eyes shut tight, whilst I shave, trim cut and snip.
Patrick now looks like a completely different person, he even stands taller and with a new found air of confidence walks through to the waiting room and takes his place. This time it is he who selects who he might share his space with.