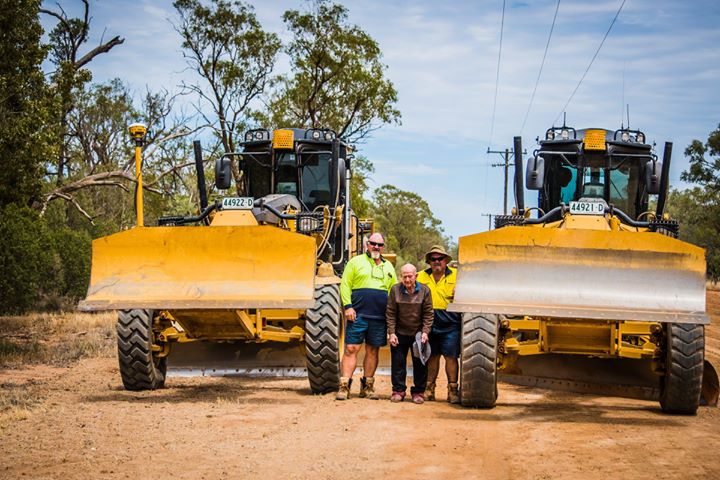 Ron's Best Week – Tailor Made Aged Care
Ron's story is the first of our blog posts about MyLife, a model of care that puts relationships at the heart of great care, and Best Week. Read Ron's story and how really getting to know and understand him helped the team at his aged care home tailor and deliver an incredible experience, just for Ron.
Ron's 99 years old and lives in an aged care home in Narrabri, a rural town in New South Wales. Born in Sydney in 1919, Ron moved to Narrabri as a 10 year old. He remembers seeing the Sydney Harbour Bridge being built before they moved away, and absolutely loved seeing how grand it was as a finished structure years later.
When he left school, Ron worked in the Faulkner's Cordial building on the bottle press, and would then load all of the bottles into cases for the trucks to deliver across town.
After his job at Faulkner's, Ron dabbled in farm work but decided it wasn't the career for him. Instead, he moved out to Walgett and worked for an earthmoving company for more than 10 years, describing himself as a "hardworking bloke who enjoyed his job".
A Very Special Outing for Ron's 100th Birthday
Ron has a milestone birthday next month, he's joining his sister and best friend, Eileen, in the 100 club. To celebrate, the team at his aged care home in Narrabri started thinking about ways to celebrate and talking with Ron about what he'd like to do to celebrate.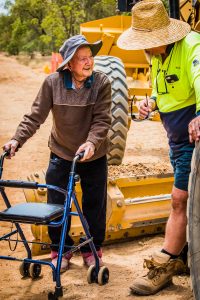 The team knew that Ron loves being outdoors and that he loves big trucks and graders, particularly having worked in earthworks in his younger years. The team reached out to Narrabri Shire Council to see how they could help and, when the graders fleet manager heard about what they had planned and who it was for, they got to organising Ron's big day.
On the way out to the work site Ron was quiet until the topic of graders came up – he's seen a fair few in his time so this was an area where Ron could share his expertise. As they drove, Ron explained to the team about why the soil changed from red to black plains, about the camber of the road and the tar seal.
On arrival at the work site, Ron was quiet again, reminiscing about his past and soaking in the familiarity of his surroundings. Two grader operators, who had helped the team plan Ron's day, came to the car to greet Ron and both were excited as they knew Ron well through the community.
Ron, the grader operators and the team spent nearly an hour onsite chatting and, when the blokes drove two of the graders up to meet Ron, parking them with the blades up in the air, Ron headed straight over for a closer look, grinning from ear to ear.
With Ron's day a huge success, and a series of impressive new photos and memories to cherish, the team headed back to Narrabri. Ron was animated and full of stories on the road home, giving the team a big hug and telling them what a brilliant day he'd had.
The best part? The team loved seeing Ron so happy that they'd enjoyed themselves and had an incredibly rewarding day at work too.
---
What is Best Week?
Best Week is one part of Whiddon's MyLife model of care – an award-winning model that puts relationships at the heart of great care.
Relationship based care empowers residents, clients and their families to be true partners in their care, and supports our care staff to build deeper relationships with the people they care for, delivering better outcomes for everyone!
MyLife sees care staff truly getting to know residents by finding out what matters most to them, so they can build strong and deep personal relationships. Each resident in every Whiddon home experiences a Best Week at least twice a year. MyLife Buddies, and the Best Week team work together, partnering with families, to create a week of tailored activities for a focus resident.
Find out more about MyLife, Relationship Based Care and Best Week here