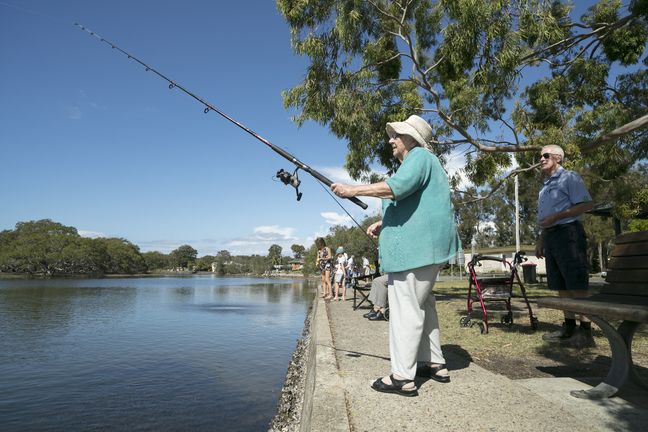 Tackling loneliness in Australia
We have all felt lonely before and have had times in our lives when we feel disconnected, excluded and down. We have also seen it in our loved ones, colleagues and communities.
An award-winning care provider has joined Ending Loneliness Together, a national network to address the growing problem of loneliness among Australians, together.
What is loneliness?
Loneliness affects everyone at some point. Temporary loneliness is part of the human condition.
Typically, people experience more loneliness at transition points in their lives. For example the transition from child to adult, moving to a new area, having a child, losing a spouse.
Temporary loneliness isn't problematic as long as we have the strategies and resilience to overcome it. Chronic loneliness, however, can have a negative impact on our health and wellbeing, productivity and how we function daily.
So who is affected by loneliness? A survey by the Australian Psychological Society in 2019, showed that one in four Australians aged 12 to 89 experience problematic levels of loneliness. At any given time, this is around 5 million Australians.
What are the health risks associated with loneliness?
Research tells us that many adults aged 50 years and older, who experience a form of negative emotions as a result of social isolation and loneliness are more likely of putting their health at risk. We know that loneliness is bad for our health and can make us more vulnerable to physical and mental health issues such as dementia, heart disease, depression and anxiety. Right now, in the wake of the COVID-19 crisis, it is more prevalent than ever.
One in two Australians reported feeling lonelier since the onset of the COVID-19 pandemic. For Australian residents aged 18-81 years surveyed between March and April 2020, loneliness increased the likelihood of developing a clinical depressive disorder by eight times as a result of these negative emotions. It also increased the likelihood of a clinical social anxiety disorder by five times.
What are the signs/causes of loneliness?
It is important that we learn how to recognise symptoms of loneliness and know where to get help. Stigma around loneliness is a key barrier to people seeking help. One in four Australians report feeling affected by loneliness, but many are uncomfortable talking about their feelings of isolation and disconnection.
This prevents many from accessing  appropriate help available in the community. It also makes it difficult for service providers to identify, engage with and support people experiencing, or who are at risk, of loneliness.
For some, different situations can cause them to feel a sense of isolation or loneliness, including:
going through the loss of someone you love
losing social contact at work as a result of retiring or changing jobs
moving to a new area or country without family, friends or community networks.
certain events or celebrations such as Christmas, Easter and birthdays
Talking about loneliness
The Mental Health Foundation in the United Kingdom reported in 2010, that one in three people (30%) aged 35-54 would be embarrassed to admit to feeling lonely. This is compared to 42% of younger adults, and 23% of those aged over 55 years.
Research commissioned by the UK Campaign to End Loneliness showed 92% of survey participants thought that people are scared to admit feeling lonely. This reluctance to talk about feeling lonely or socially isolated adds to the burden of loneliness.
Making a difference
So how can we solve the problem of loneliness? Ending Loneliness Together has a goal to halve the prevalence of chronic loneliness in Australians by 2030. They're focused on raising awareness and creating effective solutions to combat it, and to reducing the stigma that surrounds loneliness.
They're a network of leading universities, service organisations, an award-winning aged care provider, and people who really care about connection. Loneliness can affect everyone at any stage of life and is increasingly recognised as one of the major health, social and economic issues of our time.
A way they are working to effectively combat loneliness is by building the evidence base to understand and address loneliness. By talking more openly about loneliness, we can combat the stigma that surrounds it. We can also encourage others to give and receive the support they need.