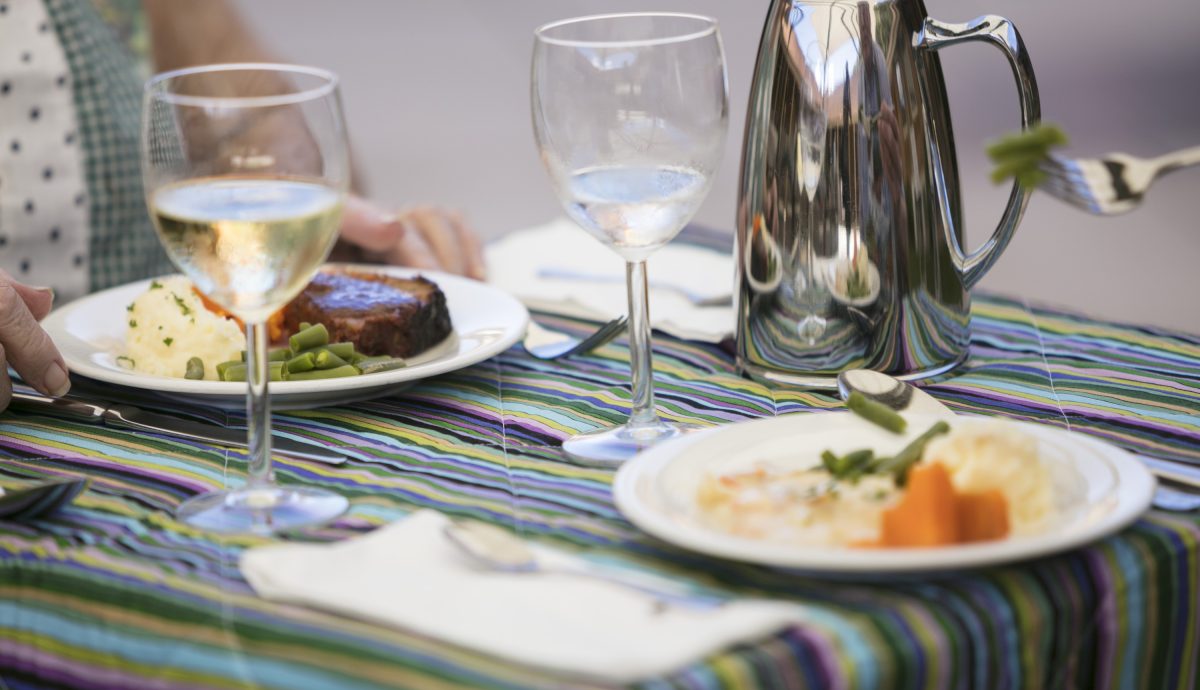 Behind the Scenes – Aged Care Food and Dining
Food is an incredibly powerful and emotive topic for people. Food touches on many areas of our lives, experiences and memories and, for many cultures, is at the heart of how we socialise and celebrate with friends and family.
Our teams are often asked, 'why is food so important in aged care?'. We're here to share the impact that food has on an individual, especially a resident moving into an aged care home, as well as our own behind the scenes that goes in to prepare our meals. As an award-winning provider for our food, this is something we're excited to share.
Food and Nutrition for residents at Whiddon
Food and dining is also deeply connected to wellbeing. Often for people who are ageing, unwell or frail, food is something that can still bring great comfort, enjoyment, opportunities to socialise and of course, improve nutrition and overall health. With every meal, we work with our dietician who nutritionally analyses our menus, to ensure our residents are reaching their nutritional goals and dietary needs. This is something we educate our kitchen teams on, and work to optimely achieve in every Whiddon aged care home.
Similarly, while the talented teams of chefs, cooks and catering staff in many homes produce tasty, nutritious meals that meet the needs of many preferences and requirements linked to diet needs, we understand that the this is not quite the same as eating a home-cooked meal for two.
Food Quality of Meals in Aged Care
Changing perceptions about aged care food and dining is important to us and we'd like to share the journey from kitchen to plate in some of our aged care home kitchens with you.
Using fresh, great quality and seasonal local ingredients to produce tasty, nutritious meals is something our catering team take great pride in so we're taking you behind the scenes in our kitchen to share the journey of creating a delicious meal for our residents.
Our teams look for creative ways to deliver wholesome meals using quality food ingredients, prepared fresh at our care homes every day. You can see more about how we tailor and prepare our meals and provide health meals to our residents below.
Cooking Programs at Whiddon
For many people moving into residential aged care, no longer cooking at home for themselves or a loved one is a huge change to daily routine and something that may have been part of their life for many years. Many aged care homes offer cooking programs to enable and continue to support residents to partake in things that are meaningful to them – like May's memory of making Lamingtons for her husband and kids many years ago.
The Cooking Club, formerly known as Vintage Bites, is a Whiddon creative ageing program that was relaunched in September 2020 and ended in June 2021. Inspired by the wonderful recipes that hold very special memories for residents across our care homes, we wanted to bring these to life and introduce a program that enables residents to cook again and try each other's recipes.
Our inaugural Cooking Club program ran for a total of 10 months, and with selected care homes coming on board, we saw some wonderful dishes being created and heard beautiful stories along the way.
Person Centred Dining
When you think of certain food, you can often connect this to a memory or experience you've had. This is the experience we enjoy bringing to life through our menus with our residents.
As Alex shares in the video below, the team of chefs and support staff are passionate about creating great experiences and understand that meal times are one that many residents in aged care look forward to. Great food isn't just about the day-to-day diet, it's also about creating extra special dining experiences on special days like wedding anniversaries and Christmas to truly understanding and getting to know what residents like, and even recreating their favourite family recipes like award-winning Anzac biscuits.
We are passionate about creating great experiences and understand that meal times are one that many residents in aged care look forward to. This is also represented in our award-winning model of care, MyLife and Relationship Based Care, which forms a very improtant role into the way our teams deliver care.