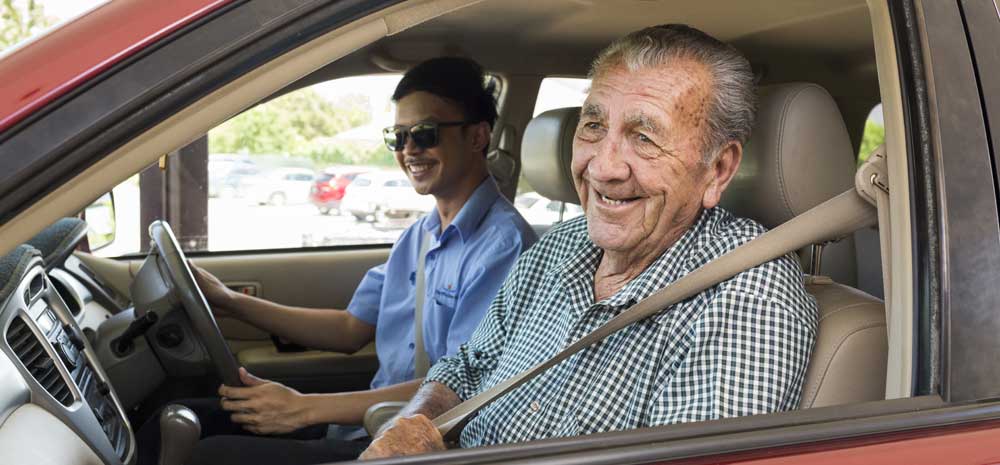 Aged Care Transport Services Help Older People Stay Connected
Why are transport services important in aged care?
Research shows us that half of Australians aged over 65 experience feelings of loneliness. One of the reasons for this, is a lack of access to transport, particularly for older people living in rural and remote areas.
The good news is that aged care transport services are available and offered by aged care providers to help older people stay connected to family, friends and the community, by supporting them to get out and about to do the things they need, and want, to do.
Having a transport service at your fingertips can provide reassurance knowing that you can continue to go to the places you want to go, see the people you want to see and do the things that make you happy.
How does aged care transport work?
Once you've organised a transport service, you'll be picked up by a qualified aged care worker and taken to wherever you want to go – from a trip to the shops, a medical appointment, a visit to a friend, a dinner out or even a walk on the beach to feel the sand between your toes.
Whether it's a short trip to get your weekly groceries, or a day out at a loved one's wedding, transport services are available round-the-clock to keep you connected to your family, friends and important places in your community at any time.
What should I expect if I book an aged care transport service?
You'll feel like a celebrity being personally chauffeured to your destination with a friendly, and qualified aged care worker, as your travel companion. They'll even let you choose the radio station, bring your friends along or take you to the drive-through for a coffee.
The level of support that you receive is really up to you – whether you'd like your care worker to stay by your side as you attend an appointment, a drop-off only service if you're heading away on a fabulous holiday or a pick-up service after a stay in hospital – whatever option you choose, a care worker is there every step of the journey to support you.
Care workers are trained and experienced in providing care and personal support, and can even help choose the perfect outfit and get ready for a special function, or make sure that you have everything packed for a perfect weekend away.
Shirley's experience with aged care transport services
For 80 year old Shirley from Sydney's south-west, her weekly pick-me-up means that she can continue to live in her own home and enjoy doing the things she's always done.
Shirley has a scheduled weekly shopping trip, but loves the flexibility of the service as she never knows when something may come up that she doesn't want to miss out on. "It's just a wonderful service and as soon as they pick me up, whether it's to go shopping or to a medical appointment, they're there to help and I know I'm in the best of hands".
Aged care transport services costs
Aged Care Transport service costs vary, depending on where you'd like to go, for how long and what time of the day – you can choose what suits you best.
You can pay privately or through a home care package and will receive a quote before you book your service to help you plan and budget.
---
Find out more about Aged Care Transport Services here