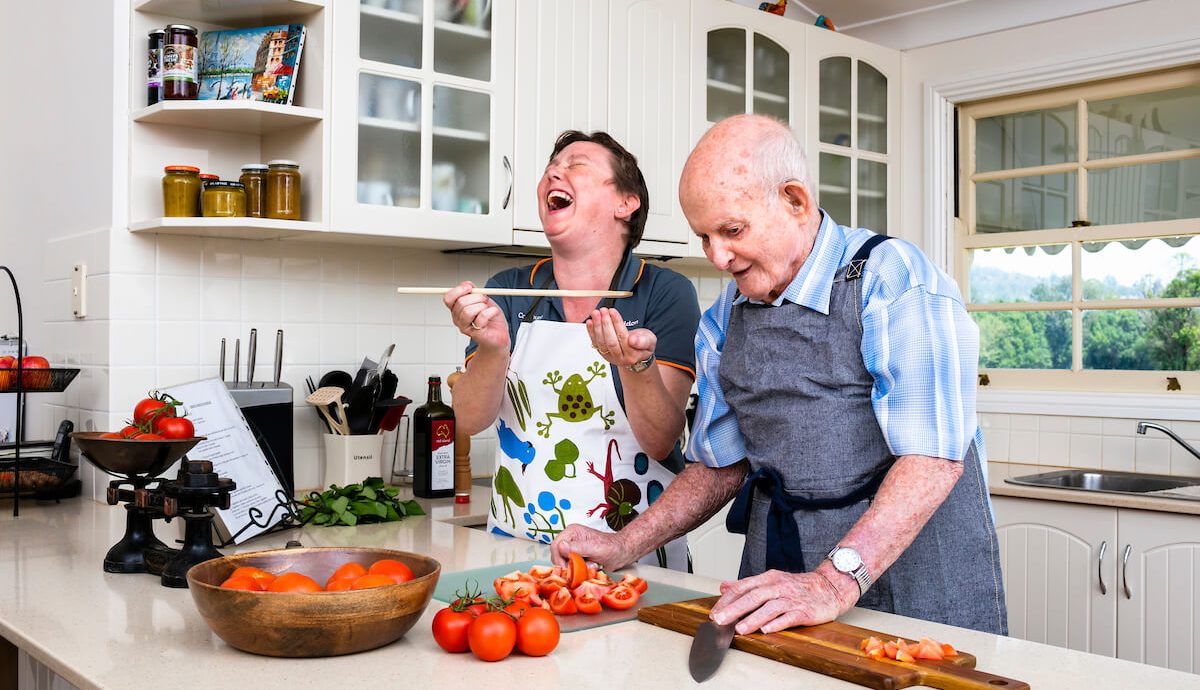 What is Community Care?
Community Care services are personalised health and support services to help seniors and people with a disability continue living at home safely and independently.
Community Care also supports seniors and people with a disability to stay socially connected to family, friends, interests and their community. This may be through transport to attend outings and events, accompanying on visits a favourite beach or park, helping to walk the dog, or visiting at home for a good chat while preparing a meal together.
Who provides community care services?
These health and support services are provided by dedicated, qualified and experienced care workers, and in some instances Registered Nurses or Allied Health professionals, who visit you in your own home.
What do home and community care services cost?
The services that you access can be paid for in a number of ways – from using your Home Care Package to paying privately, or paying for services while you wait for your Home Care Package to be assigned. Community Care services can also be accessed through the NDIS for people with a disability.
If you'd like information on price and fees, try this free budget tool to work out what assistance you'd like and get an estimate on what it will cost.
Home and Community Care services
The services that are offered through home and community care are extensive and designed to support the wellbeing goals of the person receiving them.
Community Care services range from personal care and health care, to pet care, cooking, aged care transport, respite and more. How people use home help services changes based on their needs – you might be looking for a little extra help with housework and gardening to keep your home looking clean and tidy, or for a Registered Nurse and Physiotherapist to get you back on your feet after injury or illness.
Accessing Home and Community Care services
There are a range of services you can access through community care, and a range of funded and private programs that services can be accessed through.
Home Care Packages
A Home Care Package is a government-subsidised program that supports older people to continue living at home in the community, with assistance. Community Care services can be provided and paid for with a Home Care Package. There are four levels of Home Care Packages to meet different care and support needs – from level 1 to level 4 – and the level you are approved at is based on the outcome of your Aged Care Assessment.
Commonwealth Home Support Program (CHSP)
The Commonwealth Home Support Program is a funded aged care program that supports people over the age of 65 years who are living in their own homes. The services through this program provide light support only and are suited to people who can mostly manage on their own and need only a little assistance.
Private aged care services
Private home and community care services offer the same range of care and support as Government-subsidised options, but are paid for privately, by the person receiving the services. They're flexible services and can be organised as one-off services, regular weekly or monthly services, or even pre-paid home care.
What should I expect and look for when I'm choosing a Home and Community Care provider?
Great service from the beginning – it's important to choose a Community Care provider that you feel you can build a strong relationship with and who you can trust.
Clear and transparent information and communication about costs and services.
Opportunities to discuss your goals and what solutions might be right for you before you commit.
A collaborative approach to designing and developing your care plan, it should feel as though you (and your family) are working in partnership with your Community Care provider and Care Coordinator.
Choice over who cares for you, and flexibility and choice around when you receive your care and support services.
Choice over the level of control and responsibility for your care and support services – talk to your provider about self-managed or fully managed options.
Access to a Care Coordinator who is your go-to person for questions about your care and services.
Support to find practical solutions to help you achieve your health and well-being goals, whatever they may be.
This post was originally published in 2018 and updated in 2020.