Bette's Best Week Wish List – Riding a Motorcycle at 99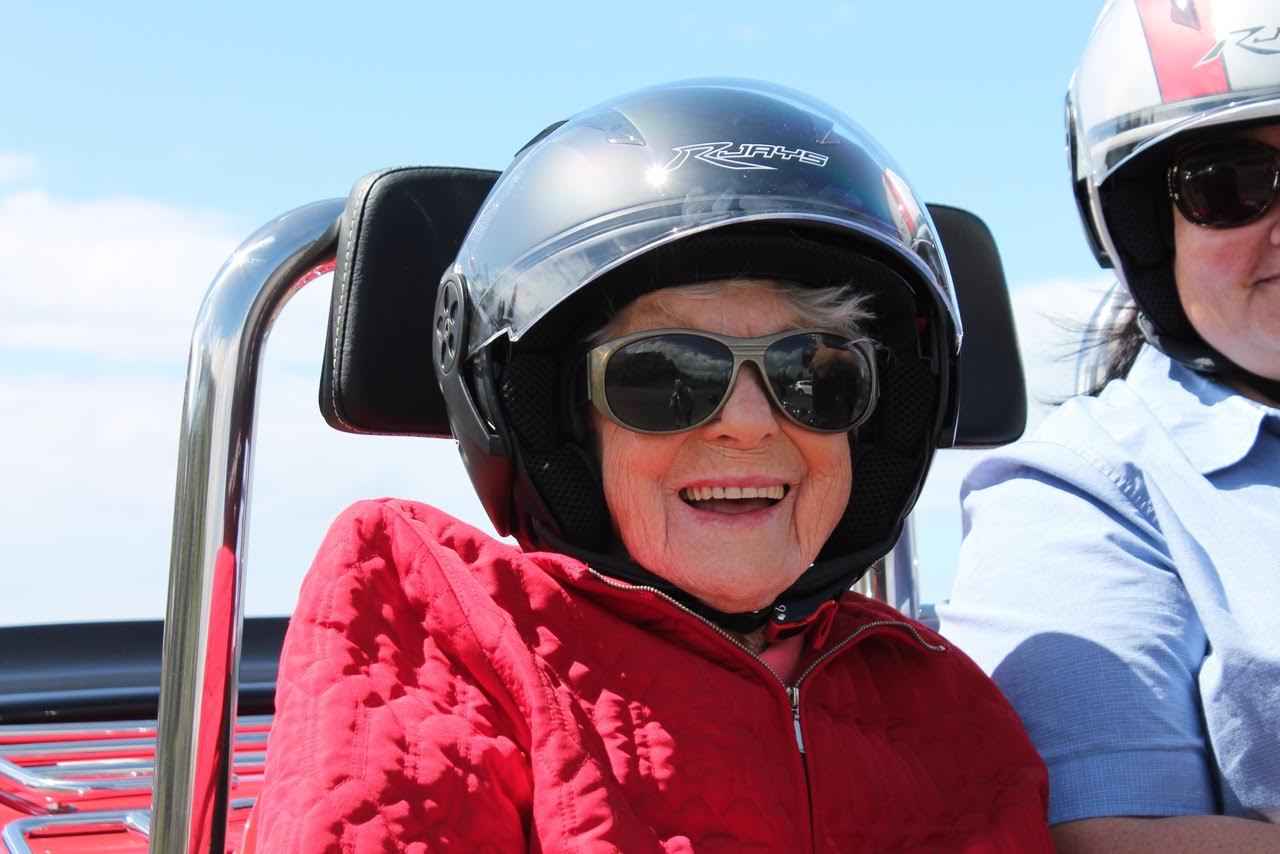 Date: 22 February 2018
99 year old Bette ticked a big experience off her wish list this week when she went on a motorbike ride for her Best Week!
Part of Whiddon's Relationship Based Care Program is a concept called Best Week, where our teams support and enable residents to achieve their wishes and personal goals, big or small.
Bette's last ride was 85 years ago, when she was late for her baked dinner because she was out on the back of a motorcycle. Not only did the team at Bette's aged care home in Newcastle, Whiddon Redhead, recreate this memory with a special baked dinner, they made sure she was back from her ride on time for tea!
Bette was joined on her adventure by her MyLife dedicated carer, Amy, and motorbike rider and owner of Big Red Trike Tours, Matt, who shared that Bette is the oldest passenger he's ever had.
What is Relationship Based Care and Best Week?
Research and experience tells us that meaningful day-to-day relationships between our residents and staff are at the heart of good care. Our model of care, MyLife, is based on these strong relationships, which we know are very important to our residents' wellbeing.
It's important for our staff to really know and understand each resident as a person. The 'All About Me' process, which is part of MyLife, helps our care staff to really get to know the residents they care for by learning about them as individuals and understanding their unique lives and experiences.
The stories we find out through All About Me and the things that care staff learn and bring to life are at the centre of great conversations between staff, residents and families. Knowing what really makes a difference to each person encourages our staff to go above and beyond in suggesting and making things happen for our residents.
'Best Week' is a way of introducing tailored and meaningful activity into the lives of our residents. By getting to really know and understand each resident, we can create a Best Week experience every quarter that's completely tailored to them, helping make their wishes come true. We ask residents what they would like to do, and with help from their family and friends, we work together to do something that's special to each person, to bring a smile to their face. A Best Week activity could be a small goal like going for a swim at the local pool or taking a fishing trip, to more ambitious goals that people may not think is possible for people with high care needs living in an aged care home, like going on a holiday with family or riding a horse again.
We often leverage our strong community connections and engage families, friends and community groups, to help make Best Week possible. This includes enabling families to play a more active role and working with local fishing clubs, libraries and even pet owners to help make Best Week dreams a reality. From a boating trip, fish and chips at the beach, to trying something new such as going for a motorbike ride or joining in a drumming workshop – Best Week experiences are happening regularly across our care homes.