Whiddon Narrabri named 'Catering Facility of the Year'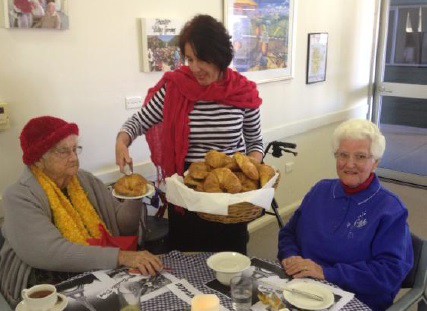 Date: 27 September 2014
The Whiddon Group Narrabri has been named NSW 'Facility of the Year' at the 2014 Aged Care Hospitality Awards. The Whiddon Group Narrabri Director of Care Services, Maree Taylor, said the award recognised the effort staff put in, consulting with residents when planning menus, ensuring they stay hydrated and providing a diverse range of dining experiences.
'Our catering service is industry leading because it is not limited to set meals, menus and dining options,' she said. Residents are treated to special BBQs, picnics, high teas, parties and other events, with family and friends invited to join in. When weather permits, events are held outdoors so residents can enjoy the fresh air and sunshine. The catering team also arranges intimate private dinners for residents to celebrate anniversaries or Valentines Day's with their partners, often providing fresh flowers and fancy crockery. Many families have said they and their loved ones appreciate that staff take the time to celebrate these special days in a way that is appropriate for the residents.
Whiddon's residents are also highly involved in developing menus and staff are supported to look at new dishes and dining experiences for residents to enjoy. Up to four choices are available to residents at each meals and staff do their best to ensure each individual is able to enjoy their favourite foods. Staff also recognise the importance of cooking in many resident's lives and have introduced cooking sessions to help them continue the practice. 'Our team believes that variety is the "spice of life" and this includes meals and meal service,' Ms Taylor said.
As hydration is particularly important for older people, particularly during the warmer months in rural NSW, Whiddon put together a special drinks trolley that is stocked with all kinds of delicious drinks to tempt residents' taste buds. A variety of colours and textures feature on the trolley, along with favourites like fruity ice crushes and iced coffees, as this has been shown to improve a person's interest in fluid, particularly if they have dementia. Ms Taylor said the hydration program had led to a number of direct and indirect health benefits for residents.
'The dining experience should be not only nutritious but fun and enjoyable, and we do our best to make this true for our residents.'