New team member brings great joy to residents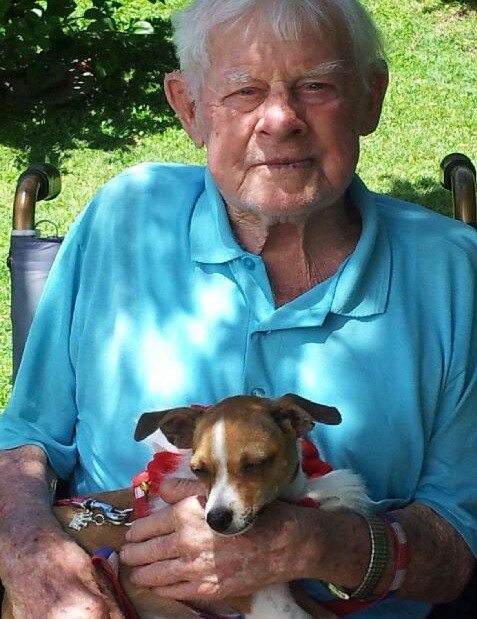 Date: 7 November 2014
The Whiddon Group Grafton has welcomed a brand new addition to their team  – a Chihuahua puppy named Leo. Leo stepped into the role of Pet Therapy Dog and has brought much joy to Whiddon's residents, visiting family and friends, and staff, since joining the team.
Whiddon's Grafton Director Care Services Mary Griffin said Leo's duties would be to provide laughter, companionship and, of course, cuddles, to Grafton's residents.  So far, Leo has been a model employee. He has a great demeanour and is content to just sit quietly with residents and cuddle up when they want to.
Leo came from a litter that belonged to local community member Robyn Brierly, the daughter of a former resident, who brought three of the puppies in for a show and tell session. Robyn's planned half hour visit turned into a three-hour visit, as she saw the added joy that Leo gave to so many of Whiddon's residents, who were reluctant to give him back. Seeing this, Robyn decided to permanently donate Leo to Whiddon Grafton.
Leo now has his own pen in the home's lounge room, where residents can spend time with him whenever they wish, and has been lapping up the attention. Leo provides residents with something to talk about with visiting relatives and helps them bond with grandchildren, who especially love spending time with Leo. Mary Griffin said that: 'taking care of Leo gives residents, who need and want this closeness with a living thing, a great sense of satisfaction and is a lovely feeling for them.'
Leo joins fellow Pet Therapy Dog, Taj, on Whiddon's team – a large poodle belonging to Grafton's Leisure Officer. 'While Taj is great at keeping the residents active and exercising by playing games like fetch, Leo is the perfect size for cuddling,' Mrs Griffin said.