Whiddon wins national award for aged care excellence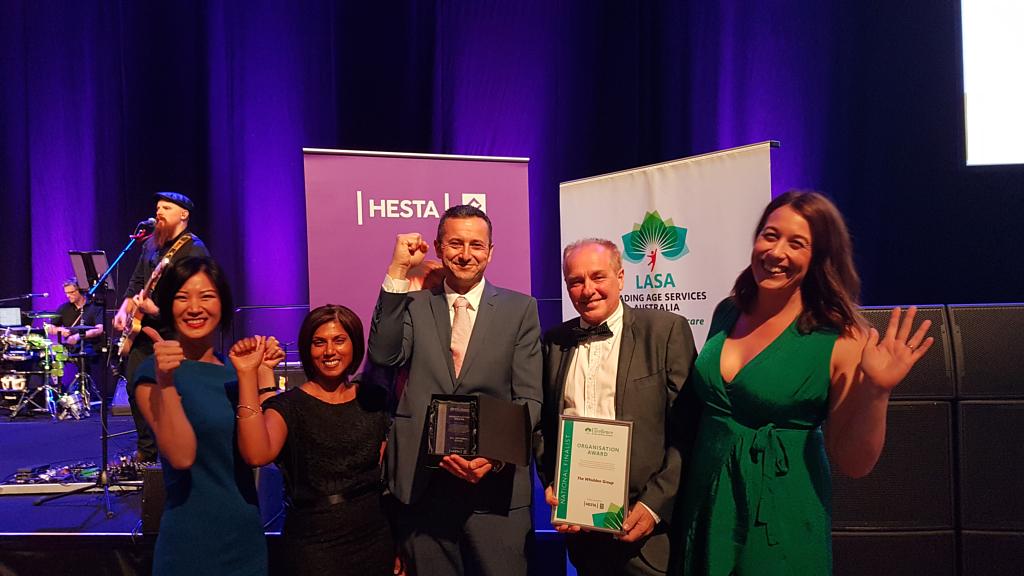 Date: 4 November 2018
The Whiddon Group has won the national Organisation Award at the inaugural 2018 Leading Aged Care Services (LASA) Awards.
The coveted award speaks to Whiddon's outstanding leadership, innovation and excellence in aged care services and their work on the Adult Social Care Outcomes Toolkit (ASCOT), a tool that measures wellbeing and the impact of care services on quality of life for older people.
Whiddon CEO, Chris Mamarelis welcomed the announcement and said it recognises the incredible work that Whiddon is doing to make a real difference in the lives of older Australians.
"By integrating the ASCOT tool, developed by the University of Kent in the UK, we are pioneering best practice care planning in Australia. It's now part of our relationship based model of care, an approach to care that promotes and enables wellbeing, ensuring that our residents and families feel empowered and engaged in their care."
"At Whiddon we strongly believe in building deep relationships with our residents, clients and their families which enables us to provide truly holistic care, from clinical, to social, physical and emotional. I'm incredibly proud of the exceptional care we provide and the outstanding work our people are doing every day across all of our homes."
"We have a strong track record for research around wellbeing, creative ageing and initiatives to combat loneliness and isolation for older Australians. This awards speaks to our work on this, along with our investment in innovation in aged care, "Mr Mamarelis said.
"We feel very honoured to receive this prestigious accolade which is testament to Whiddon being an aged care provider that is seriously committed to making a difference. I congratulate all of Whiddon's people who do an amazing job each and every day to create exceptional impact and enrich the lives of the beautiful people we care for."