Let's Celebrate the 2019 NSW Seniors Festival!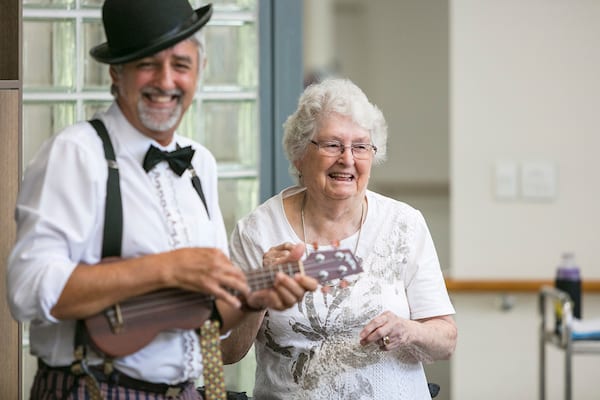 Date: 7 February 2019
Join us to celebrate the 2019 NSW Seniors Festival with a jam-packed program of exciting events!
We love celebrating the NSW Seniors Festival, and this year, are once again offering a range of engaging and fun events – from tours and outings, art workshops and pop-up cafes, to dance extravaganzas and high tea events with all the trimmings!
This year's festival will be held from 13 to 24 February with the theme 'Love Your Life'. We're encouraging our aged care residents and clients to celebrate, share new experiences and meet new friends by joining in events.
We're paying tribute to the valuable contributions of older people in our communities and are offering a whole lot of fun for residents, clients, families and friends. So join us, and let's celebrate together!
Check out our 2019 NSW Seniors Festival program and what you're invited to:
Open to the Public
Whiddon Belmont
Dance Extravaganza, Friday 15 February from 9.45am
Colleen Potts and her New Vogue Dancers will perform and teach a range of dance styles while we serve up a delicious morning tea.
Whiddon Kelso
Dancewise High Tea 21 February
Residents, clients, family and friends will be putting on their dancing shoes, ready for an amazing morning of dance, fun, food and great company as they celebrate this year's festival in Kelso
Whiddon Casino
Creative Coffee Club Wednesday 13 February from 9:30am
Arts, crafts, coffee, tea and nibbles – a morning of creation and connection
Afternoon at the Movies Tuesday 19 February from 1:00pm
Let's go to the movies with the screening of Christoper Robin and lots of popcorn, snacks and drinks
Whiddon Kyogle
Seniors expo Saturday 23 February
Join us at the Kyogle Memorial Institute – Summerland Way, Kyogle, to explore aged care options and our approach to care
Exclusive to Whiddon Clients and Families
Whiddon Casino
Intergenerational Quiz Friday 22 February
Local school children will visit and enjoy a quiz between the generations with lots of prizes and snacks
Whiddon Easton Park
Creative Cafe Wednesday 13 February
An arts inspired pop-up Cafe – a place to get creative and meet new friends over a cuppa
Tea Dance Tuesday 19 February
A special tea dance event kicking-off with a Dancewise class, followed by a high tea with all the trimmings and dance extravaganza
Whiddon Grafton
Socrates Cafe Philosophy Group – Being a Senior Monday 11 February
Discussion on being a Senior in today's times over a cuppa
Old McDonald's Farm Friday 15 February
There will be cute and cuddly visitors at an up close animal experience thanks to the generous support of Woollam Constructions
Bush Poetry Thursday 21 February
Bush Poet, Bill Kearns, will be sharing his amazing workmanship with words
Intergenerational challenge Friday 22 February
Local school children will join a pancake decorating  challenge with lots of prizes for everyone
Whiddon Kyogle
Intergenerational games day Tuesday 19 February
Local school children will visit for a games day with lots of prizes for everyone
Laughterworx High Tea Wednesday 20 February
Laughterworx facilitator will get the giggles going over high tea
Creative cafe Friday 22 February
Tea coffee and snacks will be served while creativity flows with friends
Whiddon Largs
Rock'n'roll Cafe Monday 18 February
A pop-up milk bar with plenty of rock'n'roll fun and great food!
Whiddon Laurieton
Day at the Movies Wednesday 13 February, from 9:00am
A velvet rope and red carpet screening of 'Ladies in Black' with a high tea to follow
Whiddon Narrabri Jessie Hunt
Day at the Movies Saturday 16 February, from 12:30pm
Movie screening, snacks and drinks with friends
Whiddon Narrabri Robert Young
Creative cafe Tuesday 19 February, from 10:30am
A tropical getaway themed cafe with entertainment from a local ukulele band
 Whiddon Redhead
Sweet Valley Baby Animals Friday 15 February
Cute and cuddly visitors will be the main attraction at this event thanks to Woollam Constructions who have generously supported this event. The morning will be jam-packed with plenty of fun, friendship and of course, cuddles!
Community Care Cupcake Decorating Workshop Wednesday 20 February
A delicious way to learn more about the art of cake decorating! Participants will join local experts for a step-by-step cake decorating class with yummy treats to enjoy along the way
Whiddon Temora
High Tea Dance Friday 15 February
Residents, families and friends will dance the afternoon away at a very special event, complete with a scrumptious high tea!
Whiddon Walgett
Creative Cafe Art Class Wednesday 20 February
Canvas painting art class and delicious morning tea with residents, families and friends
Whiddon Wee Waa
Intergenerational games day Friday 1 March
A game day packed with fun between the generations