Whiddon's Chat, Stories and Tea program launches at Beaudesert home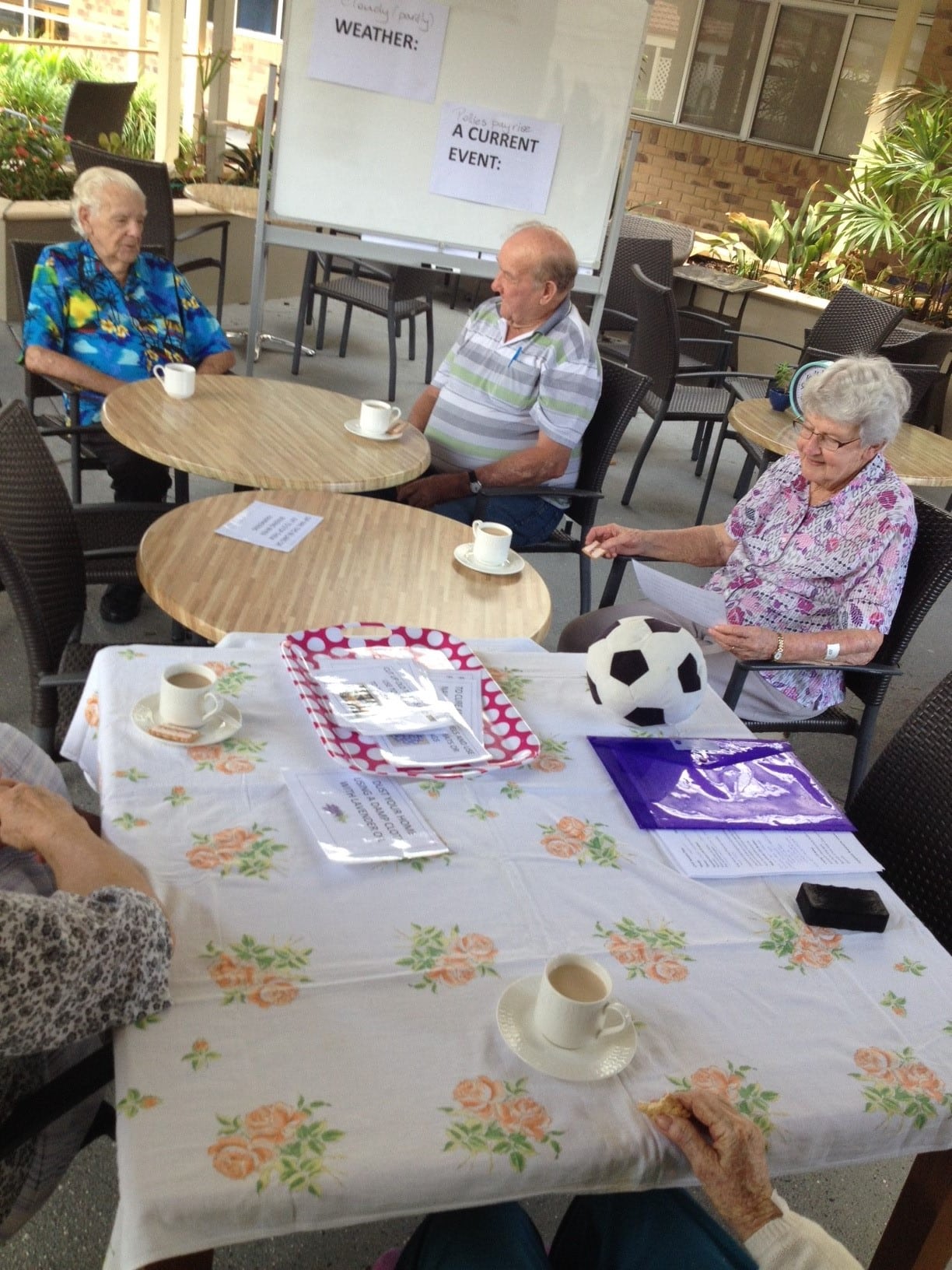 Date: 14 May 2019
Whiddon have introduced their research-based, social memory support program at their Beaudesert aged care home called Chat, Stories & Tea.
What is Chat, Stories & Tea?
Chat, Stories & Tea is based on cognitive stimulation therapy (CST) which is an evidence-based social group therapy developed in the UK for people with mild to moderate dementia.  The program has proven to be as effective as medication in improving cognitive function and mood, and stabilising or slowing cognitive decline.
Whiddon's trial of Chat, Stories & Tea in 2016 saw cognitive improvements for 52% of the participants.
How does the program work?
The program runs in small groups, with up to eight residents meeting each week to engage in conversation and interaction around different themes and topics, often using multi-sensory stimulus. Participating residents are encouraged to engage and share stories in the social group, and the sessions are supportive, fun and failure-free, which is important for older people.
The Chat, Stories & Tea group at Whiddon Beaudesert Star are highly engaged with the program.
Rita Lawrence, Regional Manager, North, said "We have seen great results here at Beaudesert. One of the residents stated that because she grew up in the bush and didn't do a lot of things as a young person, she enjoys the stories of others and learning things that she never knew before"
With around 70% of people receiving aged care services having some level of dementia, Whiddon are proactive in seeking new and innovative ways to improve the wellbeing of people living with care needs.
CST was developed in the UK by a group of dementia experts and is one of the only structure and social interaction based therapies for people with mild to moderate dementia. Whiddon learnt about the success of CST in the UK and trialled the program here in Australia, in 2016, seeing promising results.
Following the acquisition of Whiddon Beaudesert just over 12 months ago, we are delighted to be implementing a number of our wellbeing and creative ageing programs and therapies for the benefit of residents, and future residents, in Beaudesert.
With the success and popularity of the first group among residents, Whiddon Beaudesert Star are launching their second Chat, Stories and Tea group, ensuring that a greater number of residents at the home will have access to the program and the opportunity to experience the benefits realised in the program's trial.
Find out more:
For more information on Whiddon's Chat, Stories and Tea visit : www.whiddon.com.au/health-and-wellbeing/chat-stories-tea/