Whiddon Kelso employee wins 2019 Whiddon Board of Directors Awards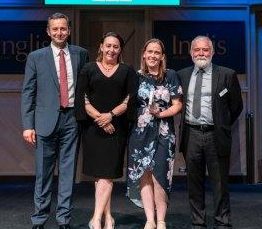 Date: 2 December 2019
Whiddon Kelso's Michelle Sharwood named this year's Board of Directors Awards winner
We are thrilled to share the news that aged care employee Michelle Sharwood from Whiddon Kelso was announced the winner of this year's prestigious Whiddon Board of Directors Award.
Now in its 13th year, the Whiddon Board of Directors Awards recognises and honours aged care employees from across our homes and services in NSW and QLD, who go the extra mile to truly make a difference in the lives of those we care for.
Michelle Sharwood, Facility Clerk, from Whiddon Kelso is incredibly deserving of this accolade and received her award at a special dinner held last week.
Michelle was nominated for consistently going above and beyond to make a difference to the lives of residents, employees and families at Whiddon Kelso. She takes on challenges with great enthusiasm and is warm, welcoming and friendly.
Michelle played a huge role in bringing our Whiddon Kelso employee wellness program to life, and is often the first point of contact for residents and their families. She shows incredible passion for her role and is always happy to give her time freely to others.
Whiddon Kelso Director Care Services, Nicole Mahara said she is immensely proud of Michelle's achievement and of her valuable contributions to residents, employees and the local community.
"Michelle is amazing and is often the first person you'll see when you walk through our doors. You always know that you're going to get a friendly smile and a warm welcome, and she takes the time to get to know everyone and what matters most to them."
"Michelle is innovative and always looks for creative solutions. She is a highly respected team member and is supportive of everyone around her. Michelle is also compassionate and goes out of her way to help residents and families navigate aged care and provide comfort and support on their aged care journey."
"On behalf of the entire team at Whiddon Kelso, I congratulate Michelle on this amazing achievement. It is quite a competitive process, so to take out this award is truly an exceptional achievement and speaks volumes about Michelle and her work. We are very lucky to have her as part of our team," Nicole said.