Staying connected with your loved one is at your fingertips with our new app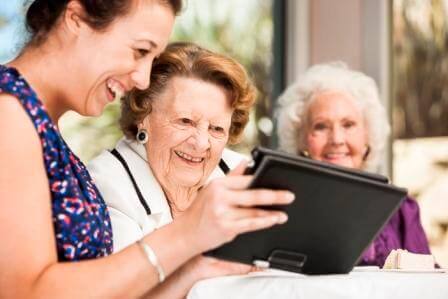 Date: 7 May 2020
During the COVID-19 pandemic, our wonderful and dedicated team members have been working hard to keep residents connected to their families, as we know how important this is to them, and their loved ones.
We have introduced risk-free visits, so residents and families can see and spend time with family and celebrate special occasions, and are using technology to offer video and chat calls via a range of platforms. We are incredibly excited to launch a new App, called Checked In Care, as another important tool for residents and families to stay in touch.
The Checked In Care App is available for Smartphones and Tablets. Once you have been registered, you will have access to video calls from a Whiddon resident, and you can share your latest family news and photos with them.  Accessing the App is easy, and it's free.
Residents with smartphones and tablets can download the App and use it to make video calls to their families. If your loved one doesn't have a Smartphone or device, we can help them access the app through one of our devices.
There will be a booking system in place, through which you'll be able to schedule a time to enjoy a chat with your loved one at Whiddon.
How do I get started?
If you'd like to access the App, please register by completing a registration form.We'll then be in touch with instructions on how to download the app, your login username and password and how the booking system works.  To get started, clink on the link above to opt-in to have access to the App.