Whiddon establishes rapid COVID-19 testing initiative for aged care employees in Glenfield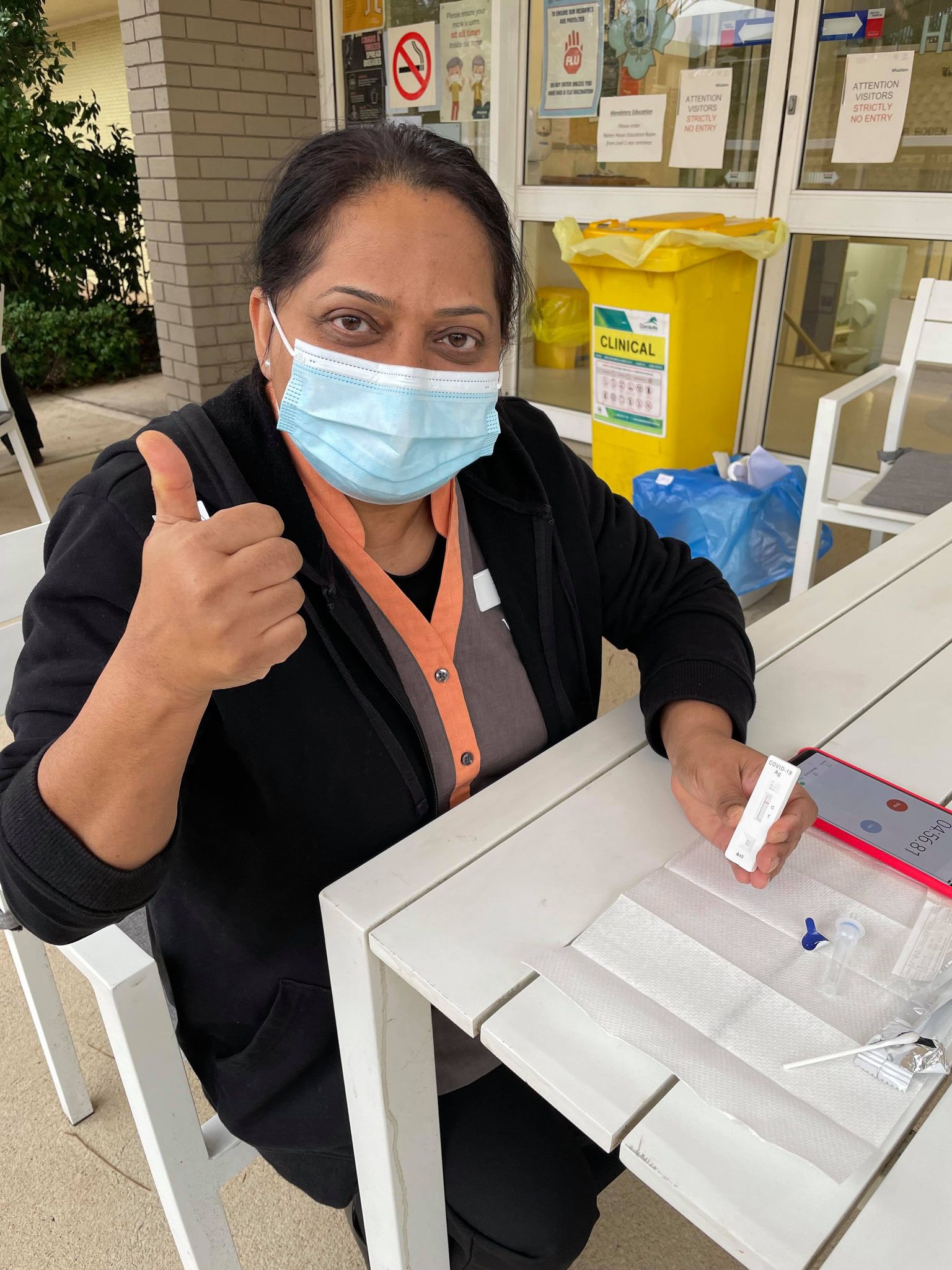 Date: 14 July 2021
14 July 2021
Award-winning care provider, Whiddon, has implemented rapid COVID-19 testing at their largest aged care campus, Whiddon Easton Park in Glenfield, to further protect residents and employees during the evolving COVID-19 situation in Sydney.
Whiddon have partnered with Respond Global, a health crisis response agency who are experts in providing infectious disease prevention and control frameworks, to supply the rapid antigen tests and testing protocols and training. Respond Global has previously supplied antigen tests to the Howard Spring's returning travellers facility, a leading Australian cruise operator for crew and passenger testing, as well as providing emergency operation centre support during the Victorian aged care crisis during 2020.
Rapid antigen tests are on-the-spot screening tests that detect antigens, or proteins, found on the surface of the virus, and deliver a positive or negative result in just ten minutes. Approved by the Therapeutic Goods Administration, under the supervision of an AHPRA health care practitioner such as a registered nurse, employees have been trained to administer the tests themselves and should a positive result be detected, the employee must then take a standard diagnostic test in line with Government advice.
Whiddon Easton Park in Sydney's South-west has over 800 employees caring for approximately 500 aged care residents, in addition to a co-located retirement living community.
Whiddon CEO Chris Mamarelis said that the initiative is industry leading for aged care in Australia and adds a very important layer of increased protection for residents and employees against COVID-19, while community transmission rates are high.
"Whiddon Easton Park has a large number of residents and employees and is located close to several COVID-19 hotspot areas, with many employees living within these areas. It is vital that we do all that we can to protect the most vulnerable people in our communities and the people caring for them, especially when we are seeing such high rates of community transmission with the Delta variant.
"Research has shown that the frequency of the testing is the most important factor in controlling the spread of infection. Employees will be encouraged to test each time they come to work for a period of 14 days at this stage while community transmission remains high. Research has also shown that when used in high-risk industries, rapid testing reduces the risk of the virus spreading and is highly effective when a person is in their most infectious period.
"Rapid testing, complemented by our strict screening processes, robust COVID-19 protocols and initiatives to vaccinate employees as quickly as possible, including through an in-reach clinic this week, will help ensure residents and employees stay safe.
"We know this is a very difficult time for everyone. Providing rapid testing gives peace of mind to residents, employees and families at Easton Park and we are proud to be able to implement this industry leading initiative to help keep everyone in our Whiddon family safe," Mr Mamarelis said.
There have not been any cases of COVID-19 across Whiddon's care homes in NSW and QLD.