Intergenerational design project inspires STEM learning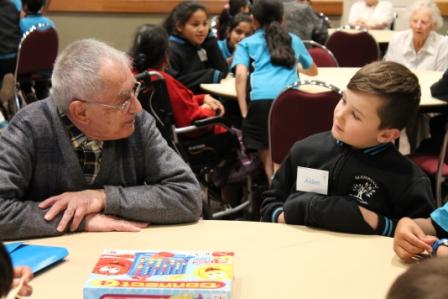 Date: 9 October 2018
Whiddon Easton Park aged care home in Glenfield in Sydney's south-west, has partnered with local primary school, Glenwood Public School and The University of Sydney's STEM Teacher Enrichment Academy, to undertake an intergenerational design project based around STEM (science, technology, engineering and mathematics) subjects.
Students and aged care residents have 'buddied up' to learn more about each other's generation, and by questioning, testing and analysing, students are able to draw conclusions and develop innovative solutions to any problems that their new friends may have, by presenting or offering a product that will solve their problem.
Whiddon's Executive General Manager Strategy and Innovation, Karn Nelson said the project brings many fantastic benefits for both residents and students.
"This is a great way for our residents to connect with primary school aged children, to share more about their lives and form important new friendships. It also provides an opportunity for our residents to assist students with their learning in a fun, engaging and innovative way. There are big benefits for both students and residents alike," Ms Nelson said.
"The ideas we've already seen through the project are impressive, such as the design of a special chess piece for a resident with Parkinson's disease, a Bluetooth device for one of our residents to help her locate her glasses, and QR codes with video links to help another resident feel more connected to others and reduce feelings of loneliness."
"We congratulate Glenwood Public School, the students involved and the University of Sydney's STEM Teacher Enrichment Academy on such a wonderful and important initiative that we are thrilled to be a part of."
Glenwood Public School Principal Jay McInney said the program allows students to engage in authentic and practical evidence-based learning, outside of the four walls of their classroom.
"This is a wonderful project that encourages students to make a real impact by using STEM subjects to find solutions to meaningful problems in real life situations, through planning, questioning, designing, testing and critical evaluation. It also raises awareness of the importance of these subject areas as a career focus for our future learners."
"Another great aspect of this project is that its learnings can be shared with other students and teachers, it has certainly created great excitement at our school. As we watch the project unfold, we've seen our students and teachers gain skills, knowledge and an incredible inspiration to make a difference in the area of science, mathematics and information technology. It is also a fantastic opportunity to further cement our strong relationship with Whiddon," Mr McInney said.
Assoc Prof Judy Anderson, Program Director of the STEM Teacher Enrichment Academy said "We are thrilled that one of our partner schools has reached out to the local community to allow their students to solve real-world problems. We are also pleased that the teachers' participation in our program has allowed them to explore innovative ways of teaching STEM subjects and to develop an authentic learning experience for their students."