Whiddon's leadership development program recognised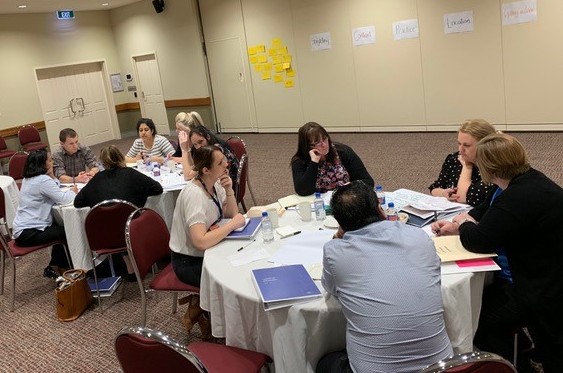 Date: 24 October 2018
Whiddon has been named a finalist in the Australian Human Resources Institute Awards, Australia's most prestigious Human Resources awards program.
Whiddon's leadership development program, Leading Whiddon, was nominated for the Rob Goffee Leadership Development Award. The innovative 18 month program developed by Whiddon in collaboration with leadership specialists HEATHMartin, is designed to empower individuals with practical leadership skills that can be immediately applied in a dynamic work environment, while remaining engaged and connected to the organisation's vision and strategy.
Whiddon CEO Chris Mamarelis welcomed the announcement and said that Whiddon has long been acknowledged as an organisation that is serious about investing in its people through education, training and leadership development opportunities.
"Our people are at the very heart of our organisation and we are genuinely committed to investing in their learning and growth. We are very proud of the Leading Whiddon program and the long-term benefits it brings to participants and the organisation."
"Innovative programs like Leading Whiddon are becoming increasingly important to meet the challenges of a growing and dynamic industry and in attracting, retaining and developing great talent."
"A lot of hard work has gone into developing this program, for our people and our organisation alike, so its very satisfying to be recognised through these prestigious awards which also serve to recognise the  amazing work of our partners HEATHMartin, having helped us successfully develop and deliver this unique and inspiring program," Mr Mamarelis said.
Leading Whiddon participant Belinda Ackermann said "The program is incredibly engaging and dynamic. It has empowered me to build confidence in my own capabilities, grow networks and relationships, and share experiences. It gives me the tools to truly grow as a leader and help to better drive sustainable success."
Leading Whiddon was designed to align with the strategic objectives and values of the organisation and focuses on self-managed learning and external and internal leadership development. It aims to stretch, challenge and provide participants with leadership through face-to-face workshops, online sessions and one-to-one mentoring.
Participants can expect to realise higher personal and team performance, develop strong capabilities under each domain of the Australian Aged Care Leadership Capability Framework and understand the overlapping nature of leadership and management. They can also expect to better understand the aged care industry and the way it impacts on the organisation, drivers to success and ways to enhance business performance.