Whiddon's MyLife relationship based model of care recognised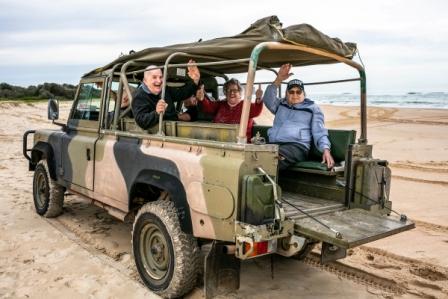 Date: 3 September 2018
Whiddon have been recognised with two prestigious accolades for MyLife, a new relationship based model of care, and its impact on the wellbeing and quality of life of residents.
Whiddon was listed in the Australian Financial Review's Top 100 Innovative Companies ANZ for 2018 and awarded a Better Practice National Innovation and Excellence Award by the Australian Aged Care Quality Agency, for the design, implementation of MyLife and its proven benefits to residents and clients.
Whiddon CEO, Mr Chris Mamarelis welcomed the news of the awards and said that the accolades are a reflection of the forward thinking work of the wider Whiddon team, but also a great achievement for the wider aged care industry.
"Recognition by The Australian Financial Review and the Australian Aged Care Quality Agency through these awards, within the space of a few months, has been outstanding for our organisation. They recognise the incredible work our people perform each and every day to make a genuine difference to the lives of those we care for."
"Our care philosophy has always been based on a belief that personal growth and meaningful activity is possible, regardless of age and frailty, and we've always offered programs to enable this. The launch of our new model of care, MyLife, which integrates care for social, emotional and physical needs, has provided us with the opportunity to ensure a consistent and holistic approach to care and create true cultural change."
"I am delighted that the work of our teams across our organisation in delivering exceptional outcomes for our residents and clients, has once again been recognised," Mr Mamarelis said.
Whiddon Executive General Manager Strategy and Innovation, Karn Nelson, who worked on the design and evaluation of the program, said the award speaks to Whiddon's commitment to empowering and engaging residents, clients and families to be true partners in their care.
"Relationship based care aims to put residents and families at the heart of their care, and allows our staff to go above and beyond to find ways to keep them connected and participating in the things that matter most to them."
"The MyLife model has helped staff to understand the people they care for on a much deeper level, even if they felt they already knew them well. Through a major retraining program for all staff, new processes and initiatives such as All About Me and Best
Week, we have seen incredible outcomes. Residents have achieved lifelong goals they may have never thought possible like riding a motorbike at 99, or going fishing again after a gap of 30 years, renewing past passions and reconnecting with family members and their communities," Ms Nelson said.
MyLife Model of Care
MyLife is Whiddon's new relationship-based model of care which sees staff truly getting to know residents by finding out what matters most to them through a major retraining program that enables and empowers them to build strong personal relationships. Through an All About Me process, care staff learn about the people they care for by identifying life stories, gaining knowledge of what is important for each resident and client as individuals with their unique and rich lives and experiences.
The stories that we find out through All About Me, and the things that our care staff learn, encourage staff to go above and beyond in suggesting and making things happen for our residents, that they know will make a difference for each resident, and tap into their history. So many of our residents have wonderful stories – for example, one resident used to chauffer the Beatles and another was the first female racehorse strapper in Australia!
Building on All About Me, Best Week is a new way of introducing really tailored and meaningful activity into the life of residents and brings it to life for them. Every quarter, each resident gets a week that is completely tailored to them, helping them to make their wishes come true by achieving personal goals, reliving old hobbies, or ticking off items that may be on their wish list. These can be smaller goals like going swimming at the local pools, or taking a fishing trip, to more ambitious goals that people may not think possible for people with high care needs living in residential aged care, such as going on a holiday or riding a horse again.