Whiddon completes $38M aged care project in Redhead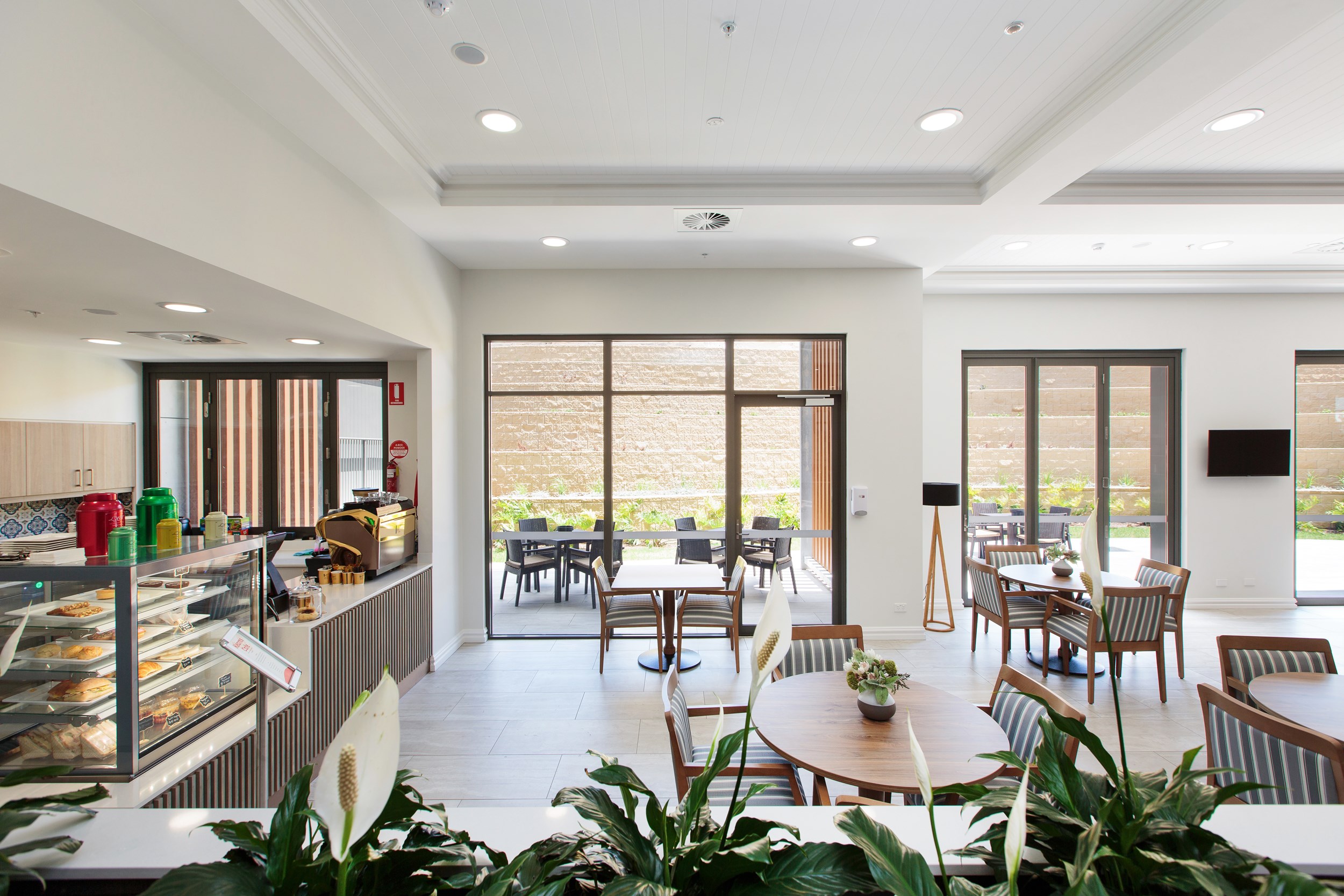 Date: 11 December 2020
Whiddon, celebrated the completion of a $38 million aged care expansion project to provide 115 additional residential aged care places for the region and enhance the existing facilities within their aged care campus in Redhead in the Lake Macquarie area of NSW.
The project delivered a new two-storey home, Keppel House, which was the first stage of the project to be completed in October 2019. This new home incorporates eight households featuring sea views rooms, ground floor courtyard rooms with direct access to architecturally landscaped green spaces, an onsite Café, allied health rooms, hair and beauty salon, large activities spaces, and is home to Whiddon's Community Care team.
Keppel House is the first Whiddon aged care home designed to promote deep embedding of Whiddon's relationship-based care model through the physical living environment, promoting independence, choice, continuity of care and quality of life for residents. The building design encapsulated small household living areas that look and feel like home. They are each designed for ten residents and are centred around an intimate loungeroom with nearby interactive kitchens and dining spaces. They are enabled with wireless internet services, smart TV's, Foxtel, and video conferencing to keep families connected.
The second stage of the project included the refurbishment and expansion of our existing aged care home, incorporating a dedicated space for dementia specific care and conversion of all rooms to private rooms with ensuites. In completing the campus facilities, Whiddon are pleased to deliver the first 'Club Whiddon' communal space which caters for larger group activities, private celebrations and family gatherings, and an adjoining relaxing outdoor space with alfresco seating, a bowling green, BBQ, children's water play area and giant chess set. Club Whiddon is available for all residents, families and visitors to enjoy.
Whiddon CEO Chris Mamarelis said it is exciting to mark the completion of this important project, which will bring many benefits to the region and cater for current and future aged care needs.
"We are genuinely excited and proud to celebrate the completion of our Whiddon Redhead redevelopment. This milestone now allows Whiddon to offer our award-winning care to an additional 115 residents, which sees our Redhead community grow to 175 residents in addition to our existing retirement living units. We also anticipate the creation of over 150 new jobs once we are fully occupied covering careers in nursing, hospitality and hotel services.
"While we would have liked to celebrate the project completion with a larger event, due to COVID-19, we chose to host a smaller celebration. Whiddon Redhead resident, Mr John Read, cut a ribbon to officially mark the project completion. We are pleased to also recognise the dedication and commitment of Mr Read, who was involved in the original development at Whiddon Redhead, in the naming of our largest building onsite, John Read House.
"There have been many years of hard work that have gone into bringing this significant project to life. I thank the entire team involved in the project and Whiddon Redhead employees, residents and their families, along with our retirement village residents, for their support during the project works. We are very proud of the results and to introduce a new living model integrated into the physical design for the first time at Whiddon. It is a beautiful aged care campus that has so much to offer the local community," Chris said.
Regan Stathers, Whiddon's Executive General Manager Property said "When designing the new home, we saw an important need to move away from traditional designs and focus on spaces which support our model of care, and a home-like environment. Our smaller household model provides opportunities for enhancing relationships between residents, their families, and our staff."
"We focused the design principles on environments that are intimate, enable choice and foster independence whilst ensuring continuity of care and quality of life for residents now and into the future."
"Interactivity and enablement were key design principles and are reflected in the beautiful living spaces, both inside and outside the home. Our technology platforms support a connected lifestyle for residents, family and friends, and the staff who provide quality care and support to all our residents," Regan said.
Take a virtual tour of Keppel House here.
With the completion of the project, Whiddon Redhead now offers:
An additional 115 residential aged care places
A new dementia specific care environment
A campus design across the residential care homes and retirement village, with architecturally landscaped green spaces encouraging interaction with the outdoor landscape
A new Whiddon Clubhouse, bowling green, BBQ and additional outdoor spaces
Significant refurbishment and enhancements of the existing home
A new two-storey home with a Café, household-style living areas, a hairdressing salon, allied health and activities spaces.